Umbrella Ceramics to Resume in Phased Roll-Out this March
February 22, 2021 by Rachel Olson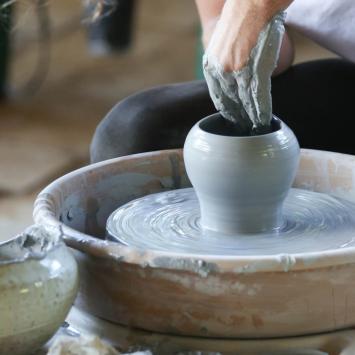 The Umbrella is delighted to welcome our new ceramics technician, Zachary Mickelson! Zachary is a ceramics artist and educator, with a decade's worth of experience teaching ceramics to diverse sets of students. Mickelson has added in the development of ceramics studios and programs throughout the Boston area, and we're lucky to have him helping to guide us as we begin the phased re-opening of our studio facilities next month.
Beginning in early March, The Umbrella will resume adult @Home ceramics classes with our new @Home Handbuilding and Wheelthrowing classes, taught by Marc Mancuso. Both classes will emphasize adapting studio techniques to a home environment. Practical topics will range from using mold forms and managing drying times amidst interruptions to transportation of fragile clay structures to firing facilities, and more.
Concurrently, The Umbrella will also resume clay pickup and curbside drop-off firing services, allowing students to make beautiful ceramic pieces while maintaining social distancing protocols.
As additional ceramics services and studio hours become available, The Umbrella will share announcements first with current members of our ceramics community. Others interested in classes and independent studio times are encouraged to follow us through our email newsletter, website, and social media channels.