Summer 2018 Pop-up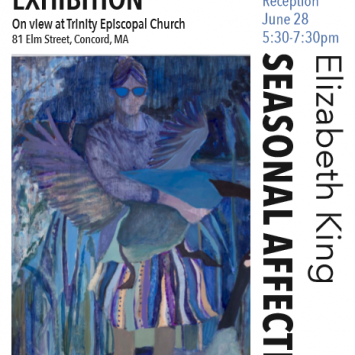 Umbrella Artists around town
The Umbrella Arts Gallery pops-up in Concord

While our gallery space is under construction, we've mounted some pop-up exhibits throughout Concord, including the culminating exhibit of our 2017-2018 Artist-in-Residence, Elizabeth King, installed at the Trinity Episcopal Church at 81 Elm Street on view until September 10, 2018.

Work by Cynthia Katz, Louise Arnold, Margaret Savage, and Joe Tratynek will be on view throughout the Wheelhouse at Bradford Mill in common areas and conference rooms.

One of Nancy Arkuss's sculptures has been installed in the garden of the Concord Public Library, stop by and take a seat with your summer reading!

Jean Lightman's work has also been installed at Newbury Court, continuing our growing partnership with that community.

Check out some shots from installation day behind the scenes!
From header: "Ten Weeks" by Cynthia Katz, "Spring Breakup" by Louise Arnold, "Antique Kimono with Geta I" by Margaret Savage, and Nancy Arkuss's sculpture in the Concord Public Library's garden.