Studio Artist Spotlight: Tracy Bull
April 2, 2019 by erinruvalcaba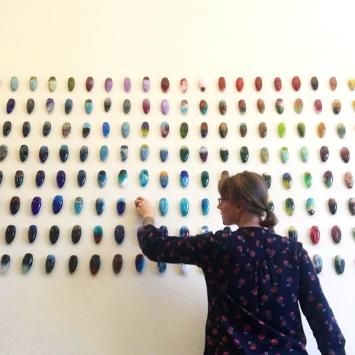 The convenience of The Umbrella is what attracted Tracy Bull back in 2013. If you ask her she'll say, "Nothing would have held me back from The Umbrella because it's a convenient specter." With three kids and a busy schedule Tracy was able to take advantage of The Umbrella's beneficial location and kid friendly opportunities.
The Umbrella plays an important role in Tracy's creative process. Having a space for her kiln and being able to create work and display it is like having a security blanket. Though she doesn't do all her creating here, "over the years it's almost become my own personal little gallery."
Tracy is able to have a variety between her home life and her life at The Umbrella. As daily life changes during the year, she enjoys spending time knitting at home or teaching her son. However when there's an order to fill on her website, Tracy makes time to visit her studio.  An added bonus to spending time at The Umbrella is that her daughter, "loves it here, she will take any class she can. She loves being here."
When asked what she though the core of The Umbrella is for her personally Tracy said, "I think that just the mix of everything is what makes the Umbrella so great, everyone has a lot going on. I like that there are so many different things to offer everyone. I guess as a parent I really appreciate all of the kids education that is offered here." With ceramics, kids classes and nature arts, The Umbrella really has it all for Tracy.
While some may find the busy atmosphere a little overwhelming at times, Tracy is all for it. If you ask she'll say, "I actually love being around all the classes, for me I'm grateful for the noise and everything. I like all the stuff that's going on and I like seeing the ceramics students, I like seeing their pots out and their expressions when they get stuff out of the closet there." She welcomes the happy faces of those who take classes here and admires their creativity. 
Tracy's passion to support others creativity doesn't stop at The Umbrella. She once started a program with some neighborhood kids, having them draw an animal a day and was able to turn it into a little kid's gallery. When asked about it she said, "I would love to keep doing that because it was really special."
Picturing what The Umbrella would look like five years down the road, Tracy envisions the building running more smoothly. Saying, "I think the building does have issues, so the fact that the building is going to be in better shape, that's a great plus." With new renovations to the building and kid-friendly opportunities, Tracy will be able to continue her artistic process while supporting The Umbrella's relationship with the community.