Studio Artist Spotlight: Carol Krauss
March 28, 2019 by erinruvalcaba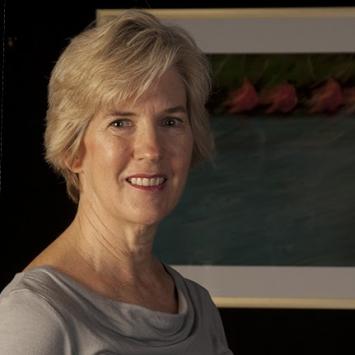 Carol Krauss, a longtime friend of the Umbrella, first came here back in 1996.
With three little kids in school and not wanting to dive back into the corporate life, she had more time on her hands to dedicate herself to something creative. Taking classes at The New England School of Photography and building a little dark room in her basement, Krauss made the best of her surroundings. Even having to carry buckets of water up and down stairs for her prints – calling it "aerobic printing."
Krauss is no stranger to hard work; gaining insight from friends she became more skilled at framing and presenting her work. When she heard about new available studio space, she was quick to put her name down and get it.
When Krauss relocated to California she still kept her studio, coming back and printing during vacations. Not knowing much about the other artists in the building at the time, she was met with friendly faces that introduced her to a very welcoming community. When asked what she thought the heart of the Umbrella is Krauss responded simply with, "I really think the artists are the heart of it; I really do."
When she returned from California, Krauss joined the Board from 2001 until 2010, acting as Chair for the final three years.
Now, Krauss manages to make the best out of her time here. When asked what makes her show up she says, "The dark room, it fills a hole in my life and it's my creative outlet. But the other thing about having a studio, a dark room and Open Studios is that it gives me a deadline, and I feel like I need to be making new stuff all the time to meet that deadline."
She appreciates the character of the Umbrella and if you ask she'll say how, "it's nice to have that kind of structure. I think that's really important. The artists I know who work out of studios in their own home really struggle with isolation. They have to work extra hard to get out and get themselves into groups and create things with a framework around them, and to have goals to work towards."
She can relax, knowing that she has, "An easy, comfortable place to do my thing. I have everything set up the way I like it." Still creating work for past clients and friends, she doesn't do as much artwork and photography as she did before. Now, Carol doesn't feel as though she has to prove herself as a photographer anymore. Saying, "I just want to focus on doing art for art's sake."
With renovations plans for the preforming arts at the Umbrella, Krauss feels that there could be a push to promote the artists in the building. She says, "We have a great opportunity to promote some of the artists here more, and it's a win-win situation: if we promote them more, they'll sell more, then they will appreciate what's being done, and they will be able to get more of their work into shows and galleries. And that's good for The Umbrella; that's really good for The Umbrella."