Studio Artist Spotlight: Barbara Willis
March 28, 2019 by erinruvalcaba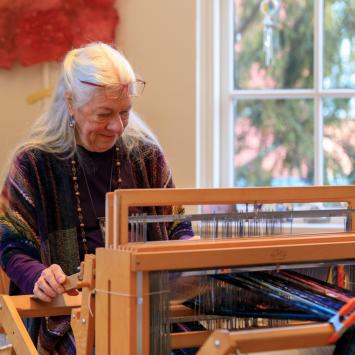 Barbara Willis has been a part of the Umbrella community since before the Umbrella was even established.
If you ask her about it, she'll tell you the story getting the lease for the building and ultimately getting permission from the town of Concord to move into the building, despite disapproval from some of the Concord residents. She was originally interested in a studio at the Umbrella because she wanted a designated space for her and her work. Though she shared the studio space with another weaver and then sublet the space with three other people at first, after a few years, she was finally able to rent the studio all for herself.
"This is my home away from home," says Willis, when asked why she continues to come back to the Umbrella. "I realized that this is the one place that's only mine. It's the one place I have that I don't share with family members or someone else. Working at home, there are always distractions. And I love the community here. It's supportive. There are exciting things happening here. It's an alive environment. And to have mentors at eighty seven years of age still coming in here and working is just great."
For Willis, the people make up the heart of the Umbrella community, and that community continues to draw her in. Willis finds that all of the people, not just artists, but also those in the Education and Theater departments, are individuals who need and desire creative expression. In her time here, she has found that many of the people around her at the Umbrella are free thinkers, smart people who have the interest, time, and energy to be in the arts. It is because of these people that the Umbrella is so different from other places.
"People who visit during Open Studios comment on how this place is different from other artists' communities," shares Willis. "They said there is a different feeling here. This place is more welcoming, more supportive. I think the artists are supportive of each other and it's family for a lot of us. It's not competitive; that is, I don't feel the competition between artists here that some visitors describe occurring in other places."
Willis hopes that this collaborative and supportive environment will continue into the future. Though she believes that this may be difficult with the renovation and the new building, she is convinced that the Umbrella will continue to find a good balance and will continue to value the artists as long as the people that make up the Umbrella community work together to make each other feel like they belong.
For Willis, no matter what happens to the building or the physical structure that they are in, the core of the Umbrella will stay the same because of the creative and encouraging people who make up the space.