State Officials Tour Completed Umbrella
November 15, 2019 by Stewart Ikeda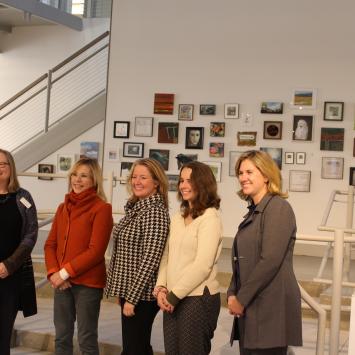 This afternoon, staff and artists of The Umbrella welcomed back Middlesex 14th State Rep Tami Gouveia, aide Emily Odgers, and Mass Cultural Council Executive Director Anita Walker to the newly renovated and reopened arts center at 40 Stow Street.
The guests had last visited as part of a state delegation that took a hard hat tour of the construction site in March; today, however, they were finally able to see the finished results of the multiyear renovation project, and much of the expanded programming and accessibility that space has made possible. Among the facilities toured were the new 344-seat mainstage theater, where set-building is underway for the upcoming muiscal based on Natalie Babbitt's children's classic, Tuck Everlasting; the 100-seat Black Box theater where they could explore Dan Daly's artfully crafted set for August Wilson's Fences, based on 1950s Pittsburgh; the three-room Makerspace, with a workshop, digital lab and fabrication lab outfitted in part with state development funding; the new main atrium art gallery currently displaying an exhbition of small works to be available for sale "Off-the-Wall" during Winter Market; a concurrent interactive installation, She4She, a piece presented in collaboration with the charitable organization, Heading Home; and other features.
The staff enumerated and thanked the visitors for many ways that state support has helped The Umbrella transform its space and extend its reach to a broader regional community through increased program, collaborations with other institutions, public art and education, and wider arts advocacy. Other topics discussed were ways art can contribute to personal health and wellbeing, opportunities for building community and enhanced use of public spaces through arts activities, and potential art collaborations with other towns and regional entities. The Umbrella staff also asserted that it would continue to participate in and promote statewide arts celebrations and advocacy activities such as #ArtsMatterDay, #ArtsAdvocacyDay and spring ArtWeek programming.