Special Offer: Explore Animation Online from Home!
April 13, 2020 by Rachel Olson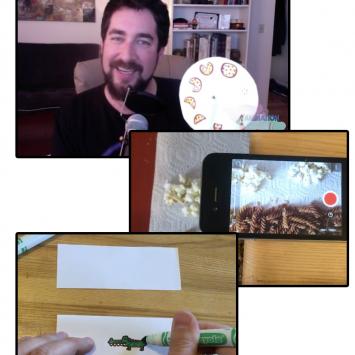 While we are in the process of developing online arts education programs at The Umbrella, here's a great opportunity for families missing their classes and vacation week programs! 
Alex Salsberg, who teaches our popular Digital Animation Lab, has created a fun, simple series of 12 DIY at-home animation tutorials and hands-on activities for kids K-6. Four weeks of online lessons include video tutorials and step-by-step instructions using learning and creative materials all readily available at home, and opportunities to share creations with others.
Alex has kindly offered a special discount just for Umbrella families who would like to participate. Just use code "UMBRELLA" while registering before April 21 to enjoy $15 off the regular cost of $85 per family. For full details and registration, see Alex's private invitation page for Umbrella families.
Regular Cost is $85 per family
***LIMITED TIME: USE DISCOUNT CODE "UMBRELLA" ON FORM TO RECEIVE $15 OFF!
Sign Up by 4/21!
Meanwhile, enjoy the sampler of animation from Alex's students at Then Umbrella this winter.
UmbrellaDigitalAnimationLab_Winter2020 from The Umbrella on Vimeo.
Are you interested in other kinds of online classes and workshops from The Umbrella? Let us know in this two-minute survey!