Sold-Out Natalie Merchant Shows Benefit The Umbrella
June 24, 2019 by Stewart Ikeda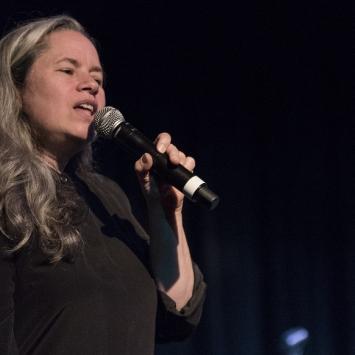 Fans of famed singer-songwriter Natalie Merchant were treated to some very special, wonderfully intimate performances in small venues this past week as the former lead singer of 10,000 Maniacs performed in two events to benefit arts programming at The Umbrella.
On Friday, June 21, in one of the fastest-selling shows in the history of The Umbrella Concert Series, Merchant played a set of hits to a standing room-only audience at Concord's Nashoba Brooks School -- the Concert Series' home-away-from-home while building its new performing arts facilities at 40 Stow Street. The small school amphitheater was a perfect venue for a quiet repertoire of songs accompanied by only the lone guitar of Erik Della Penna. In between such as songs as "Wonder" and "Kind and Generous," Merchant related short anecdotes about some of her songwriting inspirations, and also spoke out about the importance of the arts to society.
Merchant herself is a long-time advocate for the arts in general and arts education for kids in particular, and has devoted much hands-on personal effort to making arts accessible to young people. During a tour of The Umbrella's newly renovated studios, classrooms and theaters in Concord, for example, she shared her experiences bringing performing arts directly to Pre-K kids through programs including an Artist-Residency at a Head Start program in Troy, New York. 
After leaving 10,000 Maniacs in 1993, Merchant went on to a highly successful solo career, releasing eight distinctive, strong-selling albums, contributing music to films, TV and theater productions, and standing out as a visible and outspoken political activist. She has played a key role promoting environmental protections in New York, and has been an advocate for the welfare of women and children.
The day prior to the concert, Gold Level donors to The Umbrella were also invited to attend a luncheon at The Grand that included a mesmerizing private performance following a substantive "Curated Conversation" between Merchant and Boston Globe Managing Director Linda Henry.
The Concert was organized by The Umbrella staff, promotional partners, Umbrella Honorary Hosts Abby & Tim White, and a volunteer Concert Committee chaired by Liz & Phil Gross that includes Jamie & Beth Athanasoulas, John & Johanna Boynton, Kim & Dennis Burns, Ann Marie & Dick Connolly, Tim & Maureen Dibble, Matthew & Shelley Growney, Deanna & Bob Hargraves, Michael & Mary Ellen Harney, Tim & Jaimee Healy, Melissa Koester, Mike Malouf, Sheilah & Mike McCauley, Ellen McHale, Nancy & Charlie Morrison, Laura & Bob Reynolds, Wade Rubinstein & Jill Block, Susan Solomont, Hilary Taylor, Chandler Tyson, and Brenda White.