Q&A: Shani Farrell as Rose in Fences
October 30, 2019 by Rachel Olson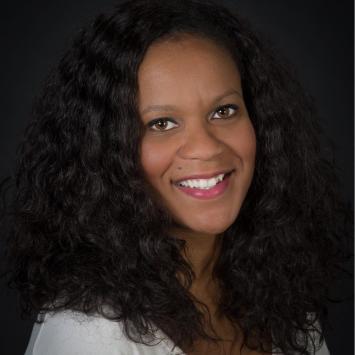 Our audiences may recognize you when they come to see Fences. Can you tell us a little about yourself and your history here at The Umbrella?
I'm a mother of two wonderful children whom I adore.  Aloura (19) is my beautiful, loving & caring daughter and Kymani (6) is my wild 6 year old child.  They fuel me. I am a recent graduate of Fitchburg State University with my undergraduate degree in Communications Media with a Theater Concentration.  My second passion is working with children and I am currently filling that by working as a paraprofessional in the Leominster Public School Department in the town of Leominster.  I was in my first ever play in the sixth grade, and it was from that moment on that I knew theater was going to be my life. I had the pleasure of seeing several shows at The Umbrella before joining their stage myself.  My first visual experience with The Umbrella was their production of La Cage Au Folles. My first acting experience was Disgraced. Since then I was a part of the DASH award winning production of To Kill A Mockingbird, Hedwig & The Angry Inch, and most recently Avenue Q.  I also work concessions as often as possible when I'm not participating in a show!
It's been said that Fences stands as one of the greatest plays ever written. Tell us a little about Rose and what it means to you to be telling her story?
Rose Maxson is first and foremost a Mother and a wife.  She is fiercely loyal to her family. She loves and supports her son Cory in his dreams of playing football, and tries her very best to be a source of strength to those that need her.   Rose serves as Troys "voice of reason" when he gets off into talking "all that stuff he be talking". While she enjoys her life she is very much aware of the growing tensions in her world and that serves as her need for a fence.  A fence to protect, to shield, all that she holds dear, her reasons for living. When I think of Rose I think a lot of my mother. I then think in turn of her mother. I think of all the women, black, white and other that grew up in a time where all you had was what was given to you by way of your man.  A time where being a mom and a wife was really the only choice you had. I think of black women who had it even tougher because so many of the black men at the time were angry, making it even harder to have success in your homes, relationships and lives. It's always important to tell these stories. Stories of "colored" pain, joy, downfalls and triumphs.  Stories that help the people of my generation realize how good they really have it. Stories that portray strong beautiful families that love fiercely and support each other completely, even through their tears. Being a part of FENCES means an incredible amount. I'm doing it for my Mama, and her Mama, and maybe even your Mama.
Why do you think Fences endures as an American masterpiece and why is it relevant to continue telling this story today? 
Being American to me is struggling, laughing, loving. Praying, crying, grieving, kissing, hugging, fearing and even hating.  Honestly that's just being human. I think more than just being an American Masterpiece, Fences is a HUMAN masterpiece. It so completely encapsulates the human plight, and that's the very reason for its success.  You may be sitting there looking at a family that looks exactly like you, or nothing like you, and yet somehow you're still looking at your family. All who see it, read it, can find someone to identify with in it. That is the true testament to Mr. Wilson.   The fact that the main characters are all people of color only sweetens the deal for me. Black stories need to be told. The good ones more so than just the ugly ones. And this is a good one. Tell all our stories, but shout the good ones out loud. That's just what I'm gonna do.
Fences will be the first production in our new black box. What can audiences expect when they come to see the production and what is it like performing in that space?
Audiences can expect to see. See it all. This intimate space allows for audiences to see everything that all the actors put into telling these stories. Every bead of sweat, every eyebrow raise, every booger and every tear. They can see into this home these characters have built.  Practically into the refrigerator! When someone allows you to so completely see into their soul you can't help but walk away and be moved by it.  That's what audiences will feel. The soul of these characters. It's my hope they walk away feeling as though, for a few brief hours, they were a part of this extraordinary family!    
Also of Interest