Q&A: Damon Singletary as Troy Maxson in Fences
October 22, 2019 by Stewart Ikeda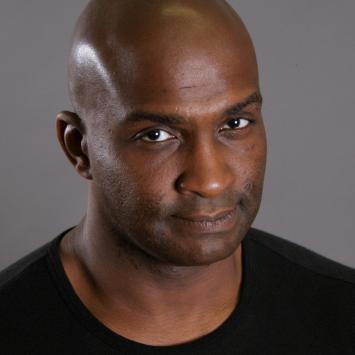 Actor Damon Singletary is known to The Umbrella audiences from his performance in Angels in America. And though his career as an equity actor has been on a fast-track since then through many memorable roles, he says that taking on the iconic role of Troy Maxson "feels like reaching a pinnacle as an actor...as though all of my previous work has prepared me for this." We interviewed him during rehearsals for The Umbrella Stage Company's production of August Wilson's Fences, running November 1-23, 2019.
Our audiences may recognize you when they come to see Fences. Can you tell us a little about yourself and what you have been up to since appearing in Angels in America?
When I appeared in Angels in America, I was a non-union actor, performing mostly in Community and Fringe Theater productions.  After Angels I really got busy auditioning for and getting cast in more and more Fringe Theater shows in Boston, as well as the occasional appearance on Equity stages (as a non-union player).  Within the last year or so, though, I had an unprecedented run (for me) of Equity stage appearances; and, by the end of the 2017-2018 season I had accumulated enough weeks working in Equity houses that I was eligible to join the union. In February I joined the Actors Equity Association union, and have since been concentrating on continuing to develop and grow as a professional union actor.
Also within the last year, I made my debut with The Gold Dust Orphans, a venerated Boston theatrical troupe, known for their ever funny, often socially incisive, typically bawdy, and always drag-filled musical parody productions. They have been doing it for the past 30 years, mainly based out of the (sadly soon-to-be-demolished) Ramrod Center for the Performing Arts in the Fenway area of Boston.  This one was called The Ebonic Woman, a superhero farce.  I played Dr. Lowe Hanger, a down-on-his-luck brilliant scientist and inventor, who becomes the titular character's mentor, and is the father of the heroine's love interest, Cliff.  I have recently returned from making my New York City off-Broadway debut, performing the play for a weekend at Theater 80 St. Marks in the East Village.
It's been said that Fences and the role of Troy stand as one of the greatest plays and roles ever written. Tell us a little about Troy and what it means to you to be telling his story?
Troy is a Black man who was born a sharecropper's son in rural Alabama in 1904.  Due to his father's "evilness" his mother left the family when he was eight, and he left home himself when he was only 14.  He soon found his way up to the Pittsburgh area, and was raised by the streets.  He fell in with a bad crowd, and he got into some bad habits, resulting in him spending 15 years in the penitentiary for stabbing a man to death in an attempted robbery.  He met his best friend and learned to play baseball in prison, and was even good enough to make the Negro Leagues when he got out.  But, he was too old to be considered for the Major Leagues, a fact about which he remains bitter and resentful to the end.  His frustrations with his own lot in life lead him to make selfish choices that ultimately destroy the only truly good thing he has in his life.  His family.
The significance to me of playing this role cannot be overstated; playing it certainly feels like reaching a pinnacle as an actor.  Perhaps it is true of all achievement, but I do feel as though all of my previous work has prepared me for this.  Particularly, the work that I have done in the past two or so years.  Because the play and role are so iconic I feel a tremendous responsibility to the work, and embodying this character over the past several weeks as I have been preparing has been something of a cathartic process, part of which I know I will continue to feel throughout the run of the show.  As many people can relate to, the relationship between parents and children, especially fathers and sons, can be fraught. In the Black community, this tension is often exacerbated by the extenuating circumstances resulting from simply living in America, some of which is referenced in the play.  Having grown up with a single mother, I myself have had personal experience with a difficult father-son relationship.  I am also the father of a young adult son myself, and we have definitely had our challenging times.  Part of the power of this material, though, is the specificity of it. These people and this place are rendered so clearly and vividly by Wilson's masterful language that their specificity makes their drama universal.  I hope that I can show not only the obvious failings of Troy, but also his full humanity, that will allow the audience to truly relate to him.
Why do you think Fences endures as an American masterpiece and why is it relevant to continue telling this story today?
As I mentioned, I think that the power of this play is in its specificity.  In addition to the top-notch writing. Having read and been involved in numerous readings of other works by Wilson from the cycle of ten plays of which this is a part, I have had the opportunity to discuss the high quality of the writing with other theater artists.  What we all agree on is that even though the language sounds loose and "broken," it actually has a very particular structure that rivals the complexity, beauty, and lyricism of Shakespeare's language.  This story endures, and will always be relevant not only because of its striking and almost musical at times language, but because audiences will always relate to the themes of love, betrayal, personal doubt, and regret. It is also always important for audiences to see and be moved by Black people on stage. It is important, now perhaps more than ever, to show how much we truly do share.
Fences will be the first production in our new black box. What can audiences expect when they come to see the production and what is it like performing in that space?
My first reaction to the new space was a slack-jawed "Wow!"  I reacted that way mostly because I could not believe the transformation that the space has undergone.  It is hard to imagine now that the black box occupies the same space as the main stage once did.  It is a totally different space from the new (and old!) main stage, so intimate and close.  Exactly what this play needs; and I am so honored and proud to be inaugurating this space with this classic American play.  From the renderings of the set that I have seen and from what I observe being built on and around the stage, audiences can expect a sort of immersive feeling when entering the theater, as if they are coming into the Maxsons' neighborhood.  Actors make entrances and exits through the house; and the yard, where most of the action of the play takes place, is within arm's reach of the front row of seats.  So, audiences will feel like they are right there with us, not just watching, adding to the impact of the play.
Because the space is so well designed, it carries sound great, and lets us have some very quiet and moving moments on stage, allowing for the full range of vocal dynamics without having to mic anyone.  One of the best parts of rehearsing the show has been that we have been able to rehearse from day-one in the performance space.  This is not always possible in most of the productions of which I have been a part.  In most cases, we have to learn the show in a separate rehearsal space that approximates the size and shape of the stage, which has the walls, doors, etc. of the set all represented by lines of colored tape on the floor.  Sometimes, it is not until tech week (the busy, task-filled week just before a show opens) that the cast can get onto the real set, where you inevitably have to sort of relearn certain entrances, exits, or other moves in the show (now that you have real walls); this can take valuable time.  So, it feels great being able to learn the show where we will be performing it. Just one fewer thing to think about as we tech the show. 
Not to mention it still has that "new theater smell!"
Also of Interest