Ninjas in Nature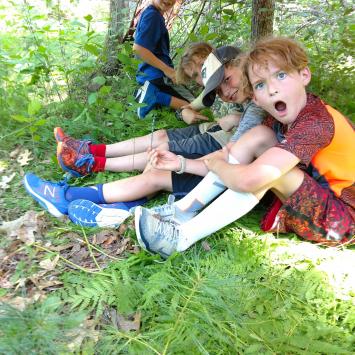 If you happened to be walking through Concord Land Conservation Trust's Newbury Land during the second week of July, you may have spotted a group of kids covered in mud, joyfully running barefoot through the field. These kids made up Musketaquid Arts & Environment's first summer session of Ninjas in Nature, an outdoor education program that combines exposure to the natural environment with the introductory arts of the ancient ninja. During this first session, a group of roughly 20 ninjas in training (ages 8-12) built shelters, picked wild blueberries, learned the art of knife throwing and practiced the core ninja skills. 
The Ninjas in Nature program, led by Mark Roemke and Ken Clarkson, focuses on connecting children to nature and improving self-confidence and resilience through skill-building activities. The first summer session certainly had a positive impact on its participants. One ninja-in-training said that she felt "braver and taller" at the end of camp while another felt proud of himself for reaching different milestones such as an hour without talking. The program ultimately helps children to feel good about themselves and confident in their abilities, creating happier and more productive individuals down the line.
The second summer session of Ninjas in Nature is on August 27, 28 and 29 (daily registration an option). Visit https://www.familyid.com/programs/ninjas-in-nature-summer-workshops to register.
Musketaquid's fall 2018 programming will include Ninjas in Nature and Ninja Training Group Classes on early release Tuesdays. Visit https://www.familyid.com/programs/musketaquid-arts-environment-adult-you... to register.