Multimedia Collaboration Featured on Innovation Showcase
July 21, 2021 by Rachel Olson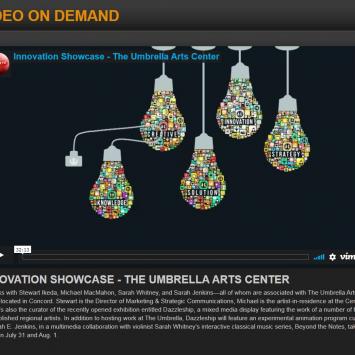 Multimedia Collaboration Featured on Innovation Showcase
New TV Program Highlights Artists of Dazzleship, Beyond the Notes
A new episode of the cable TV program Innovation Showcase features previews an exciting new visual and performing arts collaboration coming to The Umbrella Arts Center on July 31 and Aug. 1.
Hosted by Jay Sugarman, who also hosts the program Museum Open House, the half-hour program is produced by Newton-based NewTV and distributed through the Commonwealth. It features a range of groundbreaking efforts and creative individuals across the fields of business, science, technology, education, and the arts.
In the episode, Sugarman interviews Umbrella artist-in-residence Michael MacMahon, curator of the new mixed media exhibition Dazzleship; experimental animation artist Sarah E. Jenkins, violinist Sarah Whitney, founder of the interactive classical music series, Beyond the Notes; and Stewart Ikeda, Director of Marketing & Strategic Communications for The Umbrella. 
The group discusses the richly interactive multimedia concert experience, Beyond the Notes, to be staged both indoors and outdoors at the recently reopened Umbrella, incorporating animation by Jenkins, interwoven into music performances by Whitney and guest cellist, Ani Kalayjian.
Innovation Showcase - The Umbrella Arts Center from NewTV on Vimeo.