Beyond the Notes @ The Umbrella - POSTPONED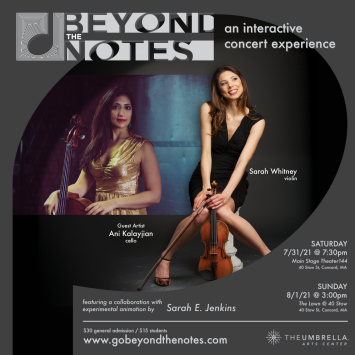 IMPORTANT NOTICE: Due to an unexpected medical emergency and hospitalization of one of the featured artists, this weekend's performances of Beyond the Notes at The Umbrella (July 31 and Aug 1) must be postponed. Fortunately, we anticipate the artist's recovery and expect to reschedule for a near future date to be determined.
While the health and well-being of our artists is of paramount importance, we regret any inconvenience to you, and assure you that our staff will reach out to all ticketholders by August 3 regarding options for receiving a full refund or reserving your spot for the rescheduled dates.At that time, the Curator's Tour of The Umbrella's Dazzleship exhibition with Michael MacMahon will also be rescheduled. (If you are a ticketholder who has not heard from us by the end of the day August 3, please contact us to ensure we have the correct contact information for you.) 
Meanwhile, on behalf of The Umbrella Arts Center and Beyond the Notes, I thank you for your understanding, support and patronage.
------------------------------------------------
July 31 & Aug 1
40 Stow Street | gobeyondthenotes.com
The Umbrella is proud to announce that Concord native and violinist Sarah Whitney will take to our stage with guest cellist Ani Kalayjian for the return of her highly acclaimed Beyond the Notes interactive concert series in an unforgettable weekend of indoor and outdoor concerts!
Following sold out performances in the 2020-2021 season, the next Beyond the Notes series will happen live on Saturday, July 31 & Sunday, August 1 The Umbrella.
Sat. July 31 @ 7:30pm - Indoors, Main Stage Theater 144 - Tickets restricted to 50% capacity
Sun. Aug 1 @ 3pm - Outdoors, Lawn at 40 Stow - Under covered tent, with curator's tour of Dazzleship to follow in gallery
The program pairs music with experimental animation by artist Sarah E. Jenkins from The Umbrella's Dazzleship mixed media gallery exhibition. Sunday attendance includes free admission to a post-show curator's tour with Dazzleship curator Michael MacMahon. Twenty percent of the proceeds will be donated to CLASP: The Center for Law and Social Policy, a national, nonpartisan, anti-poverty nonprofit advancing policy solutions for low-income people. CLASP develops practical yet visionary strategies for reducing poverty, promoting economic opportunity, and addressing barriers faced by people of color.
ABOUT THE SERIES
Beyond the Notes is a unique and interactive concert series that Whitney started here in Concord, MA 7 years ago. She has since brought world renowned artists and ensembles to Concord, including Grammy-Award winning artists, Mike Block and Sandeep Das in February, 2020. For the past year, Beyond the Notes has highlighted the works of Black composers, and supported social justice, raising funds for Race Forward, Direct Relief, Common Cause, The Voter Participation Center, Leadership Conference Education Fund, Southern Poverty Law Center​, and Campaign Zero​.
Praised by the Washington Post for her "marvelous violin acrobatics," Whitney is known for her musical versatility and has been heard worldwide across stages in Europe, Asia, South America, Africa and the United States. She is recognized as a performer, teacher, entrepreneur and advocate for bringing fresh new ideas to classical music. She is a member of the acclaimed string quintet SYBARITE5, one of the fastest-rising chamber-music ensembles in the United States, whose latest album just reached #2 on the Classical Billboard Charts.
"Beyond the Notes is a thoughtfully crafted evening that combines high artistic values with charm and personality. Sarah's programming draws everyone in from the get go, and the evening flies by from there. It's a wonderful group experience that involves everyone there and it has been a joy to be part of it. I can't wait to see what she comes up with next!" — Hilary Field Respass (Boston University Tanglewood Institute)
TICKETING
General admission tickets cost $30/person and $15/student, and can be purchased in advance or at the door. Sunday tickets include admission to a post-show curator's tour of the Dazzleship exhibition in The Umbrella Main Gallery. Limited capacity tickets to allow for socially distanced seating will go on sale starting Tuesday, June 29.
Innovation Showcase - The Umbrella Arts Center from NewTV on Vimeo.