Meghan's Year as the 2016-2017 Artist-in-Residence
September 7, 2017 by Jess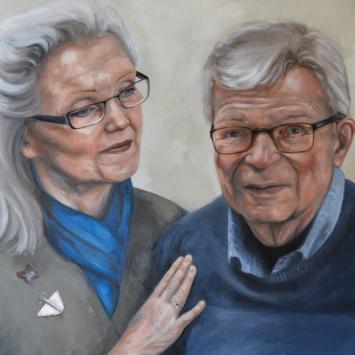 Somehow it's been a year since I moved into a crooked little house and a warm, sunny studio at the Umbrella. A nearly brand-new easel stood in the studio corner, the walls were bare, and I was admittedly intimidated by the prospect of a whole year to make a new series of work. And how wrong I was, to be intimidated by what seemed like a huge stretch of time! How the year has flown by! This past year was incredibly formative for me as a young painter.
When I began last September, I was freshly out of undergrad. My paintings had been shaped and molded by some favorite professors, influenced by the aesthetic of other Skidmore art majors, and my art process was all but defined by school. Therefore, I struggled those first few months to establish my practice as completely mine. I now needed to hold myself wholly accountable for my productivity and my paintings, which I found challenging. However, once I leaned in to the schedule that I discovered worked best for me, I became more creative and more self-assured.
Ownership over my creative and art-making process was a challenge and a breakthrough this year. I learned quite a bit about the limits of my technical practice. Nearly all of the paintings are double portraits, by which I mean that they feature two people in the composition. This presented another more technical challenge for me. I like to paint mostly alla prima, which means all in one sitting. I get a more realistic and deep impression when the background softly blends with the subject, which means that the paint in both needs to be wet at the same time, more or less. There is some blending that can be done with mediums like linseed oil or Liquin (my personal go-to), but I prefer everything to be wet.
These paintings, however, are larger than the more comfortable, smaller size that I was used to working on, and they featured two subjects. This meant that I needed to learn to work faster and to be less precious about brushstrokes. I'm still improving on those aspects - I am aware that I tend to be consumed by painting details with small brushes, and I will keep that in mind moving forward. I also think that the larger sized panels make for a nice visual effect in the Umbrella gallery, but I don't think I will work much larger than thirty inches in the future.
More importantly, I learned quite a lot about some wonderful people. The paintings in the Selfless series display various types of relationships, mostly from The Umbrella community. I was privileged to meet with all of these people and talk with them, or just listen to them speak to each other. I consider myself fortunate to witness these narratives, and to share them through painting. I hope that those who met with me were satisfied with an opportunity to chat with their loved ones; perhaps enjoy a moment to step back from the day-to-day and consider their relationship.
A question that I like to ask in these conversations is this: "What is your favorite thing about each other?". Some individuals take several minutes to ponder this question; some take only a second because the answer is always on their mind. I think it's affirming to hear, after fifty years of marriage, or a lifetime of sisterhood, or even just a year of dating.
To everyone at The Umbrella, especially those who were able to share their narratives with me: thank you. Thank you so much for welcoming me into your community and allowing me to attempt to capture a moment in your lives. Thank you for the advice for an emerging artist, from how to photograph work to how to find inspiration and life/work balance. In my acceptance as Artist-in-Residence, I felt humbled at the idea that my work could have an impact and could be celebrated. I hope that, in return, this Selfless series helps to celebrate the community of the Umbrella. You all have fascinating stories to tell, and your relationships are inspiring. In the face of upcoming changes, they are what makes the Umbrella such a wonderful place to be.
And so, this joyful, affirming series of paintings is a way of saying "thank you".