Meet Elliot Norton Award Winner Aimee Doherty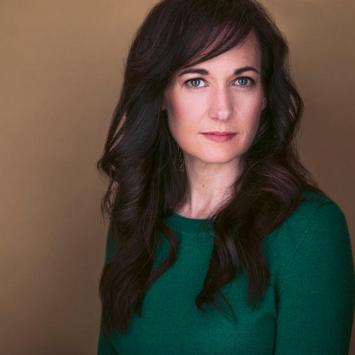 With opening night behind us, we sat down with Elliot Norton Award winner Aimee Doherty to chat about the show, the space, and what it is like playing Dorothy Brock!
People may recognize you when they see you on stage, but this is the first time you've performed at The Umbrella. Can you tell our readers a bit about yourself and your background?
I'm a Massachusetts native. Born, raised and educated at UMass Amherst where I got a degree in Environmental Science. I worked as a Senior Scientist at environmental engineering firms in Marlboro and Braintree for 15 years before the economy tanked and the only work I could find was acting. You could say that acting was my safety net! The net is very very very small but I like it that way. It's more exciting!
What was your first thought when you walked into the new theater? What caught your eye and what do you think people might think when they arrive at a performance?
My first thought was "There isn't a bad seat in the house." and "There's a cup holder for my beer!" I see more theatre than any other type of entertainment that you have to leave your house for and I like beer so both of these things are important.
What does 42nd STREET mean to you and what do you think the show means to everyone who works in or appreciates the theater?
I love the show because it celebrates the Ensemble. In my humble opinion, no one works harder than an ensemble member in a dance show. They are usually in more numbers than any named character in the show, dancing the hardest, singing the highest and they have the hardest harmonies. They are the unsung (pun intended) heroes of musical theatre.  I have seen this show a bunch of times and the thing I always remember the most is the ensemble.
Tell us a little bit about Dorothy Brock and how you approached playing her in The Umbrella's production? Who is she, and what is it like telling her story?
She is a woman at a crossroads. Let's face it, aging in our culture is particularly cruel to women and aging in entertainment is the cruelest of all. I love her because I think she is smart and talented and had she been a man back then she would have transitioned to directing or producing but those opportunities were not available to women back then so she makes due in whatever way she can. That said, she's no angel, but few people who think they are running out of options are. In my experience, the people who have to act the most important are the people who feel the most powerless.  There is a lonely heart buried under all that armor and I think that is a thing almost anyone can relate too. 
42nd STREET is a classic musical theater. Why do you think it still endures, and why should audiences come to see The Umbrella's production.
I won't give anything away but I think this particular production of this chestnut delivers all the things people are hoping they will see in a musical comedy while not shying away from an important and timely topic that is usually glossed over and played for jokes. Risk in art is important.