May 10, 7:30: The Art of Craft Beer Opening Reception
May 10, 2019 by Stewart Ikeda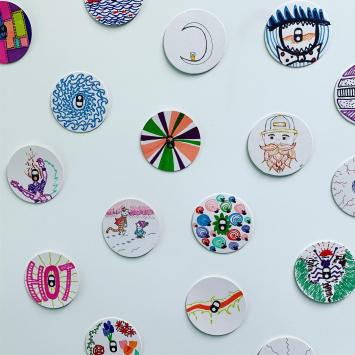 The Umbrella Visual Arts, in partnership with the True West Brewing and The Gallery at Villageworks (525 Mass Ave., Acton), welcomes the public to a fun and festive opening reception for the exhibition, "The Art of Craft Beer".
Come on out to experience, celebrate and hands-on contribute to the creative symbiosis between independent craft breweries and arts communities. You'll see some great can art, schwag art, and original designs; True West will be hosting some participating breweries on their guest taps downstairs; and you can even add our own original coaster art to the exhibition coaster wall (pictured)!
The event is free but requires RSVP here.