The Last Wide Open Rehearsals Underway!
September 8, 2021 by Rachel Olson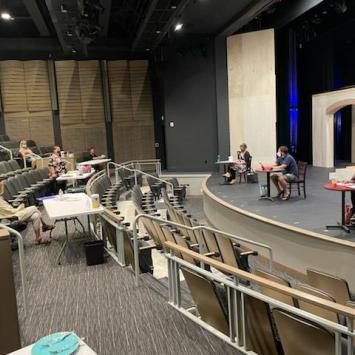 The Umbrella Stage Company is thrilled to share a peek at first rehearsal for the 2021-2022 season's opening show, The Last Wide Open! Rehearsals are being conducted safely with distancing, in a fully vaccinated working environment to protect our cast and production team. Meanwhile, the sets are shaping up, the green room is filling with props and costumes, and the actors sounded great on Day One!
Fate plays its hand in this romantic play that features original songs and live music. Lina, a young waitress, and Roberto, an Italian immigrant, have been working together for years but rarely talk. If they do, it's from a distance or gets lost in translation. But when a late-night thunderstorm finds them alone in the restaurant at closing time, they find their lives intersecting in surprising and mystical ways. Over wine and conversation, they test the waters of happiness and intimacy. A love song in three movements, The Last Wide Open imagines how the universe conspires to bring us together.
Tickets for The Last Wide Open are now available for purchase! To keep up-to-date with Performing Arts news, subscribe to our newsletter, or follow The Umbrella Stage Company on Facebook.