Go Out Doors Celebration & Sale
October 28, 2022 by Stewart Ikeda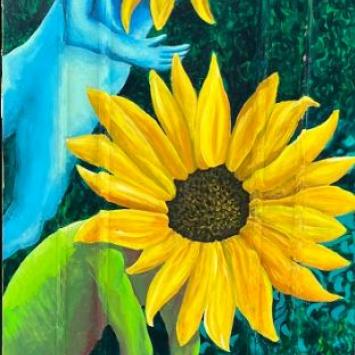 Since the summer of 2020, the ever-evolving and growing "Go Out Doors" outdoors public art exhibition has surprised and delighted innumerable strollers, cyclists and drivers throughout Greater Boston. Inspired by the En Plein Air exhibition on NYC's High Line, the original "Go Out Doors" exhibition of artfully upcycled doors was commissioned for the Bruce Freeman Rail Trail in West Concord's Cultural District. The exhibition intended to encourage a reconnection to nature for communities then emerging from COVID-19 isolation, at-home schooling, and telecommuting. Gorgeously decorated, recycled doors crafted by regional artists became surprising waypoints of delight while traveling bike paths and walking trails. Some emphasized local wildlife and environmental themes; others were fun and whimsical, stressing exercise and companionship.

In the two and a half years since then, this concept evolved into an expansive and collaborative regional public art project that promoted healthy outdoors activity, environmental appreciation, inter-town regional tourism, and rediscovery of business and cultural districts in towns throughout Greater Boston and Metrowest.
On Saturday, October 29, 10:30AM-Noon, The Umbrella will celebrate the latest iteration, Go Out Doors - Concord 2022. The public is invited to join a number of the artists for a walking tour to see the painted doors installed in locations throguout beautiful, historic Concord Center. Starting from The Umbrella Arts Center, 40 Stow Street, artists will share insights into their work on a pleasant stroll, then we'll return to The Umbrella to celebrate with fall-themed refreshments.
And new for 2022: A number of the painted doors will be for sale, first-come first-served, after the close of the exhibition for $200 apiece. To inquire about purchasing a door, contact Visual Arts Manager at Stephanie@TheUmbrellaArts.org.
View the Gallery of Art Doors available for sale below!