The End of a Residency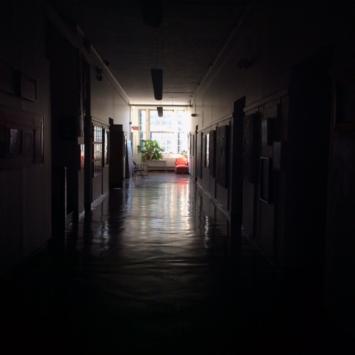 -written by 2015-2016 Artist-in-Residence, Sarah Fagan
In less than a month, my year as The Umbrella's artist-in-residence will be over. I spend the next few weeks installing my show and wrapping up work in my studio. (I look forward to seeing everyone who can make it at the opening reception of my year-end exhibit "Accumulations," in the gallery on Thursday, September 1, from 6-8 p.m.! Plug, plug!)
Today, sitting in Concord's Haute Coffee with my pour over, suddenly holding back tears, all I can think of for my last blog post is "thank you." I am filled with gratitude for everyone who has been a part of The Umbrella this year, part of this formative experience as an emerging painter.
I am grateful for those who carted over furniture in September when I had none, and for those who lunched with from time to time. I am grateful for those with whom I shared heartfelt conversations, and for those with whom I never exchanged more than a nod in the halls -- still working alongside me many nights in a shared goal. 
Good energy radiates from The Umbrella because of the community there (and no bulldozer or construction can get rid of it). I am so lucky to have been chosen as an adopted member of The Umbrella family, because I know those bonds don't just disappear.