Eight Artists, Hundreds of Visitors, for StoryArt Opening
October 4, 2019 by Stewart Ikeda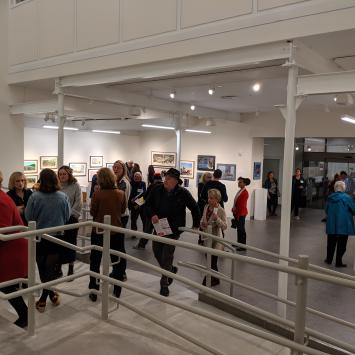 On the evening of Oct. 3, a few hundred visitors to The Umbrella turned out for the opening reception to StoryArt: Children's Book Illustration -- the first group exhibition presented in the newly completed Main Arts Gallery at 40 Stow Street. Guests had a chance to met and discuss the work with the eight award-winning artists featured in the exhibition, including: Priscilla Alpaugh, Sarah S. Brannen, Shawn Fields, Wayne Geehan, Brian Lies, Julia Miner, Ilse Plume, and Nicole Tadgell.
The exhibition provides a rare opportunity to see book art up close, learn more about the illustration process, and meet the creators both in the gallery and through a planned panel discussion and all-ages hands-on workshops, in assocation with the townwide Concord Festival of Authors.

Thanks to the many enthusiastic attendees who came to the opening!