Concord Families Paint Picnic Table Covers
August 18, 2020 by Rachel Olson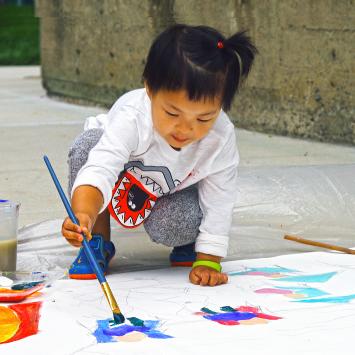 Town Tourism, Local Artists Team Up to Beautify Outdoor Dining Areas
On Saturday, August 15, several Concord families gathered at The Umbrella Arts Center to decorate table covers that will be displayed on picnic tables around town. Painting in shifts over 3 hours, and maintaining social distancing, family groups worked with the guidance of local artists from Village Art Room and The Umbrella.
A joint project by The Town of Concord Tourism and Visitor Services, Village Art Room, and The Umbrella Arts & Environment program, the table covers are to be displayed on a half-dozen tables made available by Concord businesses and organizations who would like to see more art in their seasonal outdoor dining and picnic areas.
Families were registered through a public call on the theme, "What is your favorite Concord COVID-19 activity or destination?" Some families came with their own designs answering the call, while others worked with local artists to paint images that evoked getting outdoors and enjoying nature.
The finished images will also be displayed in The Umbrella's end-of-summer #DiscoverYourArts Showcase exhibition.
Photos by Ron Mann and David Rosen