Color Your Quilts Class Review
January 8, 2020 by Anonymous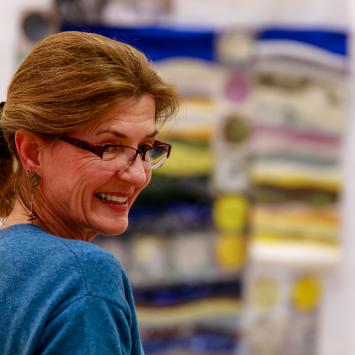 By Moira Ten-Hove
This fall I've been spending my Wednesday afternoons playing with my fabric stash in the company of seven people who are playing with their fabrics, too. We've been learning more about color and how to better use it in our quilts. 
Color presents unique challenges to quilt makers. Few of us choose to dye our own fabrics — who has the time or technique? — we must use what we can find at the store, in our stash, or even in our fellow quilters' scrap bags! But even these constrained options can be overwhelming and quilts take so long to make that we are sometimes afraid to make our own choices and rely instead on the safety of a kit. 
If, like me, you prefer to make quilts that reflect you, or a quilt-worthy recipient of your labors, time spent experimenting with color and color theory is a good investment of your time. But these afternoons have been so much more. Each week we arrive works-in-progress and unfinished objects — WIPs and UFOs to the initiated — and extra fabric in hand ready to really look and to try to understand what works, what doesn't and why; to see how to evoke a mood or see how one color affects its surrounding neighbors; and to be amazed by how differently we've each approached the same project. 
Some of us are just learning how to accurately sew a 1⁄4-inch seam, others have been quilting for years but we all have the same goal — to use color more effectively — the weekly classes allow the time to apply the theories we've being learning in class and to enjoy one another's triumphs. They also allow time to laugh and to begin to form or deepen friendships.
Learn more about quilting and other art classes, introductory through advanced, in our Adult Classes section.