Ceramics Studio Redesign & Expansion Project Launched
April 23, 2023 by Stewart Ikeda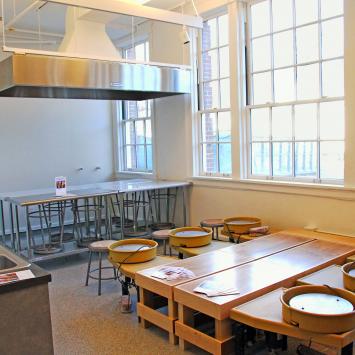 The Umbrella Arts Education Program is excited to announce we are embarking on a significant redesign and expansion of our highly popular Umbrella Ceramics Studio Program.
The program has experienced increased and robust demand since reopening in 2020, with classes reaching maximum capacity within hours of opening registration each semester, and storage space strained for our thriving independent studio community. 
The redesign project aims at once to improve facilities, increase capacity to serve more students and artists, create more navigable space and access, and provide a better experience for all participants.
Highlights of the expansion plan include: 
Combine Room 107 with the existing classroom (Room 108) into one expanded classroom space to accommodate four additional pottery wheels, including an accessible wheel for students and artists of all abilities; a hand-building space; additional cubbies for students and artists; and an upgraded sink area. This larger classroom space will become the primary classroom for youth ceramics.
Combine Rooms 105 and 106 into one new large Ceramics Program space dedicated to the glazing process. The creation of this space will allow for added capacity for adult classes in the main studio.
Create two permanent studios and one "rotating" studio space on the first floor (Rooms 112 and 113) to host at least one annual Ceramic Teaching Artist-in-Residence who will augment and refresh our class offerings teaching staff, offer workshops and talks for the community, and show their work alongside the studio. 
The Umbrella is investigating contractors and funding options, with the goal to begin construction on July 1 with a completion date of August 15, 2023. Additional community updates and input opportunities will be shared on TheUmbrellaArts.org in the months ahead. We encourage interested folks to be sure to sign up for our newsletter to receive updates!
Photograph by David Rosen