Call for Stories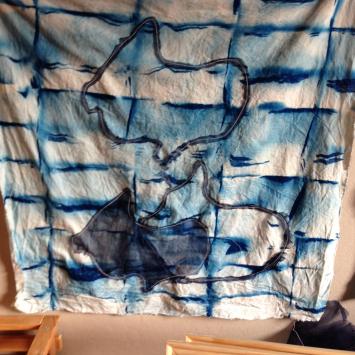 -written by artist-in-residence, Nina Earley
Happy New Year! My December felt like one big blur of art making, winter market-ing, and holiday preparation, and after taking a few days off from my studio I feel refreshed and excited to start this new year. I have been thinking a lot about how my work has changed based on where I am currently located. I set out at the beginning of this residency to make work that relates to the area, and my continued themes of walking and mapping lend themselves very well to this. To begin the new year I started drawing a map of a walk I took with a fellow artist here at the Umbrella, and our dogs, of course. I am using cyanotype chemistry to print the map drawing on canvas and will then sew more map lines on top before I stretch the canvas. There is an experimental factor involved in this type of work, which I really enjoy.
My hope to go on more walks with local artists and mapping those walks, led me to think about all of the experiences one has with a place over the course of a lifetime. Expanding on this thought leads to my first collaborative project here at the Umbrella. I would love to collect stories you have that center around Walden Pond and its surrounding pathways. (See attached Call for Stories below).  These stories can be short or long, things you've experienced yourself or stories that have been passed through your family, they can describe a significant life event or an everyday walk. They don't have to be ready to be published, these stories will simply be the beginning of this project. (If you are unable to write a story yourself, but would like to participate, let me know and I can help with the writing.)
Once I have collected the stories the actual collaborative art piece will take more concrete shape, and I would like to keep it secret until that point, so that the visual outcome of the piece does not affect the type of story told. In addition to story contributions, at that point I will need some volunteer artist contributors. For each person this should be a small side project that is fun, it won't take up too much of your time, but I think the final piece will be impressive.
I hope you've all had lovely and relaxing holidays and are ready to start the year in a creative way.
Nina

 Call for Stories.pdf