April Showers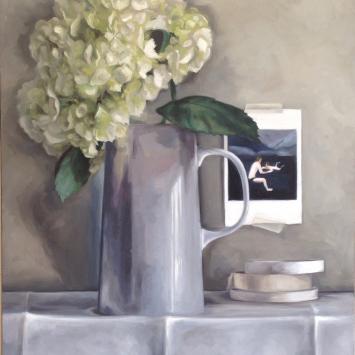 written by Meghan Murray, 2016-2017 Artist-in-Residence
Happy spring! Like many of the artists here at the Umbrella, I am now working with my window open to let in the sunlight and warm breeze. With the spring weather comes a feeling of renewal and opportunity. I've already been overcome by a desire to stretch out, in more ways than one. Mentally I feel refreshed, as though I can consider new possibilities for research and creative practice. I just bought some new, bigger brushes, so that I can stretch myself artistically. And I have done a bit of spring cleaning, hanging up completed work alongside blank panels so as to motivate myself for paintings ahead.
This past week, I was in between portraits, so I stretched out by trying my hand at a floral still life in oil. I have always admired the technical skill and color work that goes into successful still life painting, and I especially love how an arrangement of objects can contain a narrative aspect. Inspired by the blooms outside, I zipped down to Trader Joe's to pick out some flowers. They were pretty picked over because of the holiday, but I found some nice white hydrangeas nonetheless. I also wanted to include some white linen, as fabric drapery has always been a challenge to me. The composition evolved into a mostly white-and-gray arrangement. I added some rolled tape and a postcard of a painting by Michael Andrews that I got at the Tate Modern last year. In the few still lifes I've done, I like to include a photo or some kind of picture in the composition, as I think it creates more depth and the parallel lines usually contrast with organic shapes, like in the flowers or drapery.
I did a quick underpainting - mostly grayscale except for a red tone underneath the flowers to neutralize the green tint. I am still learning to mix greens, and I think that the undertone of red really helped create more natural green colors.
I like to periodically try compositions or genres that take me out of my comfort zone and help me expand my skills as a painter. These warm spring days seemed like the perfect time to take a moment to stretch.