Announcing Meghan Murray, the 2016-2017 Artist-in-Residence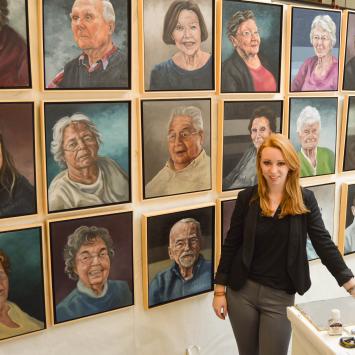 We are thrilled to announce Meghan Murray has been chosen as The Umbrella's 2016-2017 Artist-in-Residence!
The Umbrella's Artist-in-Residence program, which offers free housing and studio space to an emerging artist, started in September 2014 with Nina Earley. Nina is a conceptual artist who uses an endless range of mediums to convey her interest in mapmaking and memory. After her yearlong residency, she returned to The Umbrella as part of Mark Maker's: Cameraless Images, a group show with resident artists Cynthia Katz and Carol Krauss.
In September 2015, The Umbrella welcomed Sarah Fagan, a prolific still life painter most recently from Portland, OR, whose limited palate and interest in collecting is being exhibited through September 18, 2016 in her cumulative show, Accumulations.
Our 2016-2017 Artist-in-Residence continues The Umbrella's search to bring new and different art to our community that sparks dialogue. Meghan Murray is a portrait painter recently graduated from Skidmore College.  For her senior thesis, Meghan painted a series of portraits of residents of a local Alzheimer's unit:
"Each of these individuals recounted to me stories that they felt important to share. Narratives about thirty years in the military or blue-collar work in the coalmines; snippets of childhood memories of swimming inLake Superior; stories from years of experience as parents, daughters, sons, siblings, spouses, friends. Advice gleaned from a life well lived. Some were reluctant to share; others were natural storytellers. They are humorous, blunt, unapologetic. These narratives informed the portraits. I challenged myself to capture the presence of each individual."
Meghan's focus on community and narrative made her a natural pick for a residency at The Umbrella, where stories leap out of every corner. Originally from Mansfield, MA, she looks forward to learning about the Concord community with its rich history and natural beauty. Meghan is particularly interested in using her portraiture to tell the stories of marginalized members of the community, seeing her work as a way to bring light to people who are invisible to society.
Meghan will join us at The Umbrella in mid-September 2016 and will be in residence through September 2017. She will give three community presentations throughout her residency, one in October, one in March, and one in during her cumulative show from August through September, 2017. We hope you'll join us inwelcoming Meghan to The Umbrella community and to Concord. Stay tuned to hear what she makes!