Announcing the 2018-2019 Arts Gallery Season
September 19, 2018 by Jess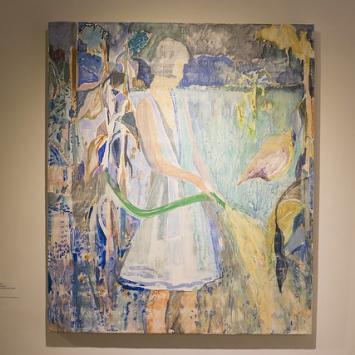 Announcing our 2018-2019 Arts Gallery Season: TRANSITIONS
During several months displaced from our studios and galleries this summer, Umbrella artists are popping up around Concord in conventional and unconventional gallery spaces. Come fall, the resident artists of The Umbrella will return to a transitional space still in flux: the final touches studio renovations ongoing, a gallery with temporary walls, and a separate location for the education and theatre programs continues.

In the midst of this ongoing transition, we can't help but think of others in the same state. From transitions in our everyday lives to those happening on a larger scale, we ask ourselves, "How can we hold space for transition?". In the face of we are witnessing in this moment in our nation's history, how can this platform, our studios and galleries, be a gathering place for connection and understanding? Can we lift up the stories and perspectives those that are most vulnerable and threatened in our community? 

The process of making art is in many ways a process of transition: moving through, under, over, or past something on the way from one place to another. Art transitions from the idea stage through many iterations before sharing with others in a way that moves them from one place of understanding to another. We invite you into this conversation throughout this year's Visual Arts Programs as we explore the theme TRANSITIONS.
Exhibition Schedule
seasonal affections: Elizabeth King, 2017-2018 Artist-in-Residence Exhibition, June 26 - September 10 at Trinity Church
The Umbrella 'Pops-up' Summer 2018, July 1 - September 1, various artists & locations
Off the Wall: Transitions, annual small works show, November 30 - January 3
Migration, a curated fiber arts show, January 10 - February 28 2019
The Art of Craft Beer, March 6 - May 29 at The Gallery at Villageworks
Open Studios: Passage, Annual Resident Artist Group Show, March 7 - April 7 2019
Musketaquid Arts & Environment Earth Month Exhibition, April 11 - May 9 2019
Beginning at the End: Portraits of Dementia. Photography by Joe Wallace, May 16 - June 20 2019
While our gallery is under renovations through November 30, please check out the Umbrella's public art installation in Hapgood-Wright Town Forest, Art Ramble!
Want to stay in the know?
Get on the Visual Arts email list to receive exhibition and event announcements.