Black Lives...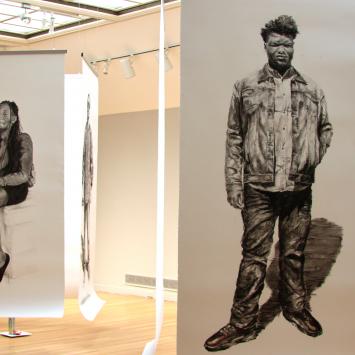 BLACK LIVES...
by Keith Morris Washington, for ConcordArt
July 9 - September 9, 2020
The Umbrella Visual Arts is pleased to support our neighbor, Concord Art, presenting Black Lives..., featuring work by artist Keith Morris Washington.
The hybrid physical/virtual exhibition is associated with a larger planned exhibition curated by Washington, (un)seen, but delayed until 2021 because of the Covid-19 pandemic. However, due to the urgency of the discussion surrounding Black Lives Matter, Concord Art has determined to mount this exhibition of the artist's large-scale charcoal and pastel drawings. Portraits that honor anonymous Black individuals who persist in the face of violent white supremacy are punctuated by significant objects as "offerings": a pack of Skittles memorialize Trayyvon Martin, who bought them the night he was murdered by George Zimmerman, and loose cigarettes, such as Eric Garner had sold when killed by a police officer in 2014. 
Black Lives... is viewable in-person at ConcordArt by scheduling a private appointment with Sasha Pacek, and will be viewable online at Concord Art and The Umbrella.
For more about Washington's inspiration, see Cate McQuaid's detailed profile for The Boston Globe, "Portraits of 'ordinary people who continue to live and survive; at the site of police killings"
KMW Final version from Concord Art on Vimeo.