EM3050 Activity: Make a Puppet on a Stick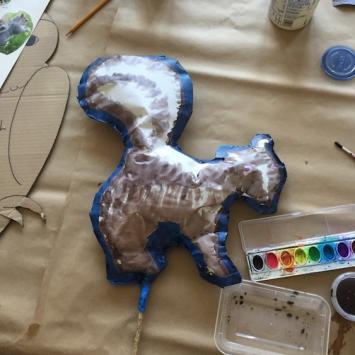 OBJECTIVES
To connect with a favorite animal in our local area by creating a puppet on a stick; To share your passion with other people.
MATERIALS
Local animal guides, photos of favorite animals, descriptions of favorite animals
3 Large pieces of paper (18 x 24) ideal, but smaller is ok! 
A stick from outside, about 36 inches long
Recycled plastic bags or paper
Tape
Staples
Watercolors, markers, crayons, and/or tempera paints
ACTIVITY
Do some research on local animals. Pick one you think is cool. 
On the first piece of paper, draw a draft of your animal. Do you want to make a puppet out of the whole animal? Just the head? Practice drawing in the features that make your animal special (every animal is special!). 
   
Once you know what you want to make, draw the image on one of the two remaining pieces of paper.
 
Put the third piece of paper under the paper you drew your image on. Cutting both pieces at once, cut out your animal image. 
Tape the edges of the cut out image around ¾ of the image (leaving an opening to stuff your puppet). Use small lengths of tape so curves of animal can be maintained. 
Draw in some detail lines -- eyes, feathers, gills, etc., and then decorate with paints/crayons/markers. Let dry.
When dry, stuff your puppet with crumpled newspaper or plastic bags. 
  
When you are happy with plumpness, insert stick and finish taping around the edge and around the stick. 
   
Paint on any final details.

Voila! A puppet on the stick! Now, go paint your face* and parade around your house and neighborhood! 
*Caran d'Ache watercolor crayons make great face paint! Otherwise, feel free to use some mud or make up!

Share your photos, journal pages, thoughts, experiences, and/or feedback with us! Post on social media with hashtags:
#umbrellaarts #musketaquid #concordearthday #musketaquidearthday #earthday3050
Or email Caroline at caroline@theumbrellaarts.org
Special thanks to our Earth Month sponsors