Zero Toys and Death of Print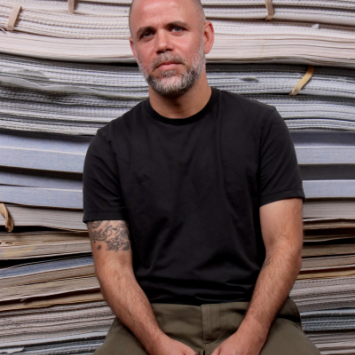 Zero Toys and Death of Print:
Photographs by Jordan Kessler
September 29 - November 12, 2023
Tuesday, October 3: Opening Reception
Jordan Kessler's new exhibition of large-scale archival pigment photographs captures vivid detail of tactile experience that our society has come to devalue in the age of digital existence. 
Zero Toys and Death of Print is inspired by the old-school tools used by Zero Toys, the adjacent business to Kessler's basement studio in Bradford Mill, West Concord,  where he also runs a fine art framing business, Pitch Black Editions. Are you sensing the theme here? Zero Toys' featured new toy is a "Zero Blaster" that blows smoke rings, so Kessler focuses on the notebooks, catalogs, calculators, batteries, bulletin boards and anything the creators actually put their hands on, because, he remarks, "Everything is becoming condensed, homogenized and sterile – all of our life functions are collapsed into screens."
In his "Death of Print" series, Kessler fills the frame with meticulous, textured arrangements of magazines torn into tiny shreds beyond recognition. Kessler is not interested in photographing above-ground environments such as city scenes or landscapes that have all been photographed before or have been turned into cookie-cutter new development, so he sticks to the basement, the home of old toys, magazines and forgotten ways of being and captures them in photographs where they reappear larger than life.
Kessler was born in Framingham, grew up in Hudson where he received a D- in high school photography. From there, Kessler went to Mass Art and started in film before switching media. Kessler does not market himself. If you go to his website and click on his bio, you will find a blurry profile picture through a frosted screen. There have only been two other public exhibitions of his work, so don't miss this one. Jordan remarks in all seriousness, "This might be my last exhibition!"
Related Features