Wrack Line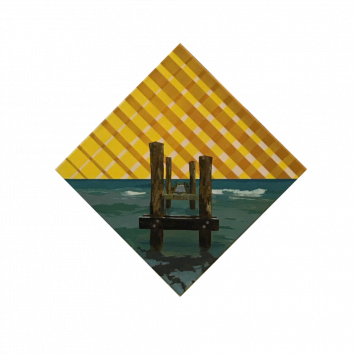 An Exhibition by Artist-in-Residence Michael MacMahon
The Umbrella Main Gallery AND on ArtCld
September 23 - Oct 31, 2021
Artist Reception Oct. 30
Wrack lines are linear piles of debris (both natural and manmade) that become situated on the edge of the landscape. The result of their coming in contact with and carried along by the forces of incoming waves and tides.
The merging of economic need, curiosity, seen and unseen forces have brought peoples from different cultures and communities into contact across great distances. Whether through clashes or cooperative endeavors, these convergences have brought about the adaptation of living within a contemporary culture that is an ever evolving aggregate state. Ideas of the self/home/the domestic space and the landscape come together in the paintings on view.
Poly-chromatic grids in these paintings influenced by patterns found throughout the domestic space; furniture and tapestries to bowls and baskets inherent to domestic spaces act as a complex melding of real-world observations with ideations of balance and permanence. These grids merge, adapt and sometimes clash with the images of the landscapes changing natural edge; an access point. In other work the subject matter has moved further inland to the wrack line and tree line. As we navigate these spaces they are overlaid with a rippling color pattern. These lines though maze like are in fact all the possible routes available through an unseen maze hiding the correct route in plain sight.
ABOUT
Wrack Line features new paintings by Michael MacMahon, created during his two-year residency at The Umbrella Arts Center in Concord. Originally from Ireland, MacMahon now resides in the United States, and these dual perspectives prominently inform the works in Wrack Line. Part of the painting faculty at School of the Museum of Fine Arts at Tufts University, he has shown work both nationally and throughout the region. His practice utilizes landscape imagery and color theory to further his interest in the representation of the American landscape with an exploration of home as a place and a state of mind. Awards include the Dana Pond award for painting. In addition to painting he has enjoyed inter-disciplinary opportunities that bridge art and other ventures, most recently as curator of The Umbrella's group exhibition, Dazzleship.