Volunteer to help our studio artists wrap and pack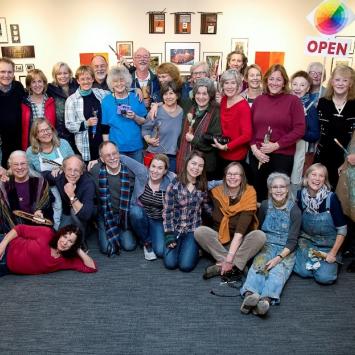 Volunteer for a couple of hours after school to help artist wrap and pack
What:  Come after school for 2 hours of helping wrap and pack books and small art supplies. It's easy and we'll make it fun.  Nothing too heavy. Many hands make light work. Work with a friend. See what's hidden away in those art studios.
- Packing boxes with books and other small studio materials
- Help with labeling and inventorying artists' studio contents
About the project: Our artist are a friendly bunch and they will be moving out for the summer during construction.  Come to lend a hand for a couple of hours.
A perfect spring community service for teens.  Get a few more hours.
On your way out, we'll offer a scoop of "Reason's to Be Cheerful" ice cream.
You can do this with a friend as long as I have your friend's full name and email address.
When:  Choice of day(s):
Tuesday, May 29th, or Wednesday, May 30th from 3:30 to 5:30 pm (or after school)
Requirements: Reliable, can follow directions, dependable.
Where: 40 Stow Street, Concord (Concord Center) MA * Ample free parking.
Time commitment: 2 hours at The Umbrella.
Number of Volunteers needed:  8 to 10 volunteers
Interested? Contact: Kathy Warren, Volunteer Coordinator, at kathy@theumbrellaarts.org