The Umbrella Concert Series Presents: Natalie Merchant
SOLD OUT!
The Umbrella Concert Series Presents: Natalie Merchant
Join us for a very special evening to hear the acclaimed singer-songwriter Natalie Merchant perform to benefit The Umbrella. We are expecting a sold-out show for this one-night only performance – and we want you to be there!
Friday, June 21, 2019
Pre-reception  6:30pm – 8:00pm
Concert begins  8:00pm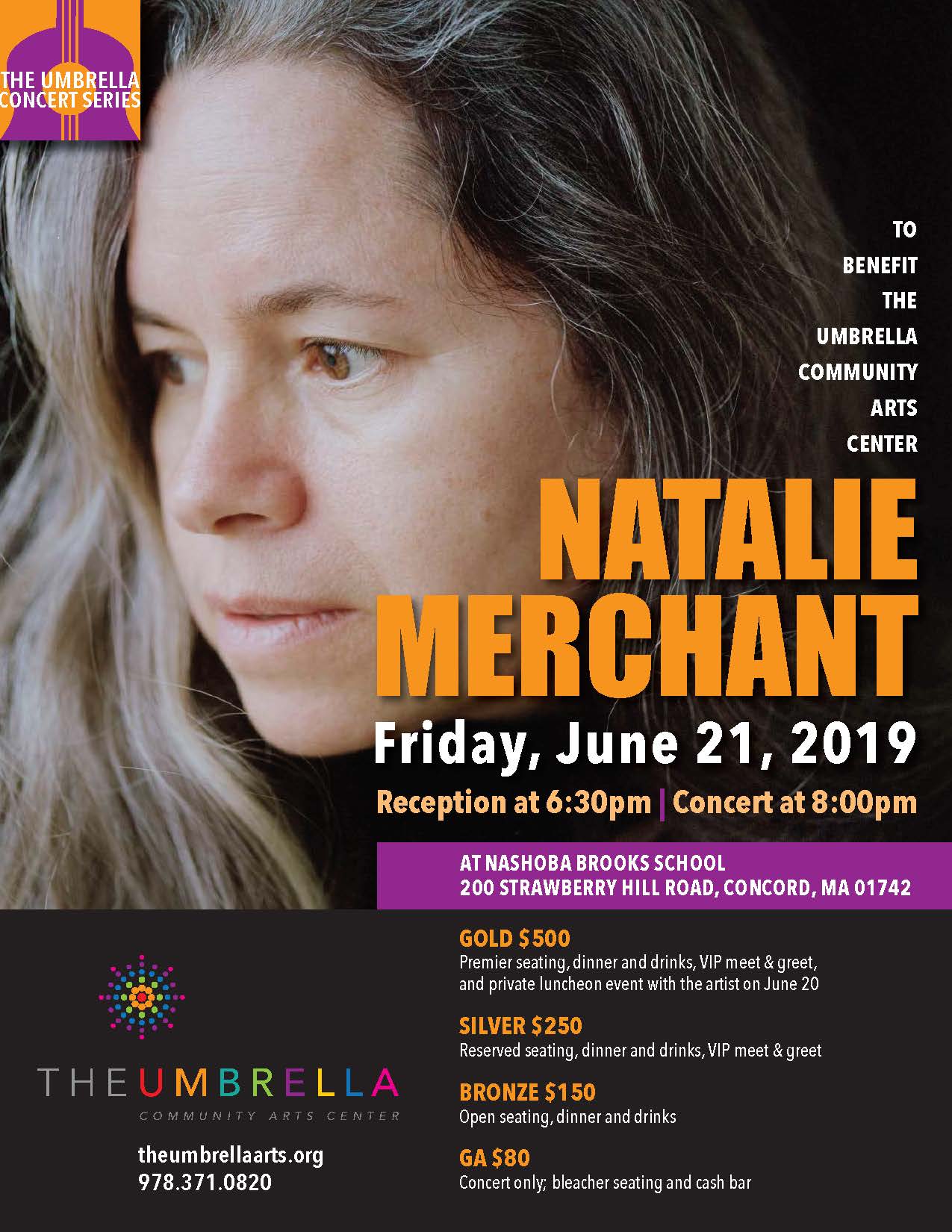 The former lead singer and main lyricist for the band 10,000 Maniacs left the group in 1993, and went on to a highly successful solo career, releasing eight distinctive, strong-selling albums, contributing music to films, TV and theater productions, and standing out as a visible and outspoken political activist.
Merchant will perform the benefit in the small theatre of Nashoba Brooks School in Concord for an intimate concert experience following a festive, pre-concert dinner reception with complimentary drinks. Gold-Level Benefit Ticketholders will also be invited to a post-concert Meet & Greet, as well as a special lunch, discussion and private performance event in Boston with Merchant on Thursday, June 20, copresented by Boston.com and Hubweek.
A limited number of General Admission concert tickets outside of the Benefit packages will also be on sale, pending availability.
We hope you'll join us for this incredible evening!
Thank you to our amazing Chairs Liz & Phil Gross and Hosts Abby & Tim White and The Umbrella Concert Committee!
Jamie & Beth Athanasoulas
John & Johanna Boynton
Kim & Dennis Burns
Ann Marie & Dick Connolly
Tim & Maureen Dibble
Matthew & Shelley Growney
Deanna & Bob Hargraves
Michael & Mary Ellen Harney
Tim & Jaimee Healy
Melissa Koester
Mike Malouf
Sheilah & Mike McCauley
Ellen McHale
Nancy & Charlie Morrison
Laura & Bob Reynolds
Wade Rubinstein & Jill Block
Susan Solomont
Hilary Taylor
Chandler Tyson
Brenda White