Stories from the Earth Exhibition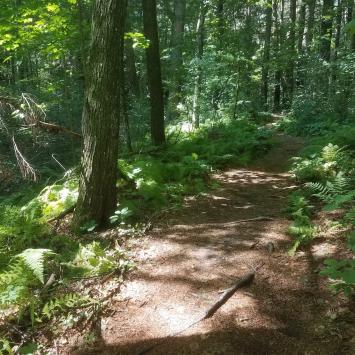 Musketaquid Earth Month Exhibition
April 6 – April 23, 2022
How does the Earth speak to you?
​Do you have a special place on the land that speaks to you? Do you see the work of the last glacier in landforms here today: in eskers, drumlins, kettle ponds, and in the rocks of the stone walls? Can you picture life coming back after the glacier as soil accumulated with its hidden worlds of fungi and microfauna? Do you see carbon-storing plants returning in succession: lichens, mosses, ferns, grasslands, shrublands, and forests? Can you imagine animals moving onto the land and people following? Can you picture the ways that inhabitants changed the land over the years? When you walk outside today, do you think of the feet, animal and human, that walked the land before you?
Do you think of Earth as the whole planet, so beautiful and perfect for life? What is your reaction to soil destroyed by human misuse, forests rapidly annihilated for profit, grasslands replaced by development, and methane-sequestering permafrost melting? Do you see the consequences of climate change in floods, droughts, hurricanes, and species loss? What is the Earth telling you? Can you help the world see what is happening?
These are the prompts that dozens of artists from around the world responded to in the call for art for this year's Musketaquid Earth Month Exhibit, a non-juried mixed-media art exhibition on display in The Umbrella Arts Center Main Gallery from April 6 up through The Umbrella Arts & Environment Program's traditional
Earth Day Celebration
on April 23, 2022.
Free and open to the public.
Participating Artists
Anne Piessens
Annie Downes Catterson
Barbara A. Paugh
Bonnie Orr Miskolczy
Bruce Davidson
Cara Gonier
Cary Rapaport
Catherine LeComte
Christopher Croucher
Cynthia Frost
David Smyth
Deb Richardson
Deborah Cohen Miller
Debra Bretton Robinson
Dimitri Dubuisson
Dirkje Legerstee
Edie Lipinski
Edward Feather
Ellie Bemis
Emily Rose Navarro
Emily Yousfi
Evan, Jessica, Peter & Sheila
Jennifer Berry
Jill Brown
Jill Goldman-Callahan
Kathleen Dunn
Kathryn Bartholomew
Katie Sluder
Light Bear
Lonnie Harvey
Luka Hershkowitz
Lynn Leone Connelly
Madeline Lee
Marie-Louise Petrie
Marit Hoerger
Mary E. O'Connell
Matthew Prindiville
Max Payne
Mia Brown-Seguin
Miao Sun
Mica K. Knapp
Michelle Brown
Mimsey West
Mothers Out Front
Nadia A. Yassa
Nancy Roberts
Natalie MacKnight
Neil Horsky
Noah A. Clawson
Oakland Merritt
Peggy McClure
Ron Mann
Sarah A. Brow-Hill
Sasha Weigel
The Migration
Tina Browne
Zhonghe (Elena) Li