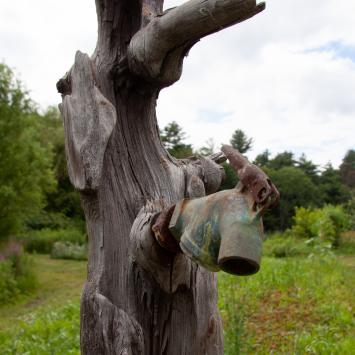 2020 Art Ramble 
Water Change: Where Spirit, Nature, and Civilization Meet
September 1 - November 8, 2020
Hapgood Wright Town Forest
Curated by Susan Israel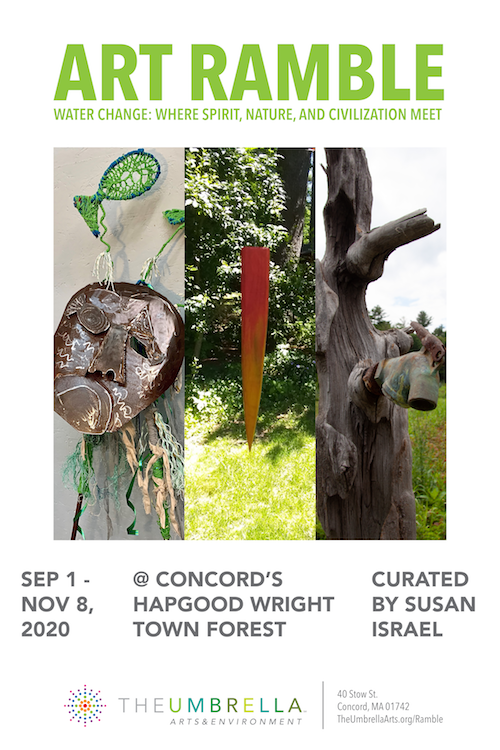 About The Art Ramble
The Art Ramble is an outdoor public art installation in the Hapgood Wright Town Forest in collaboration with the Concord Natural Resources Division. Work in this exhibition responds to this year's theme of water in the context of climate change.
A special thanks to Concord's Minuteman Media Network for this wonderful video tour of the Art Ramble.
Share your thoughts and reactions to the Art Ramble in this response form:
Read the wonderful poetry by Joanne DeSimone Reynolds inspired by the different pieces in this year's Art Ramble.
Participating Artists
Anne Alexander, Paul Angiolillo, Laurie Bogdan & Kimberley Harding, Joanne DeSimone Reynolds, Sally Fine, Barbara Fletcher, Jen Fuchel, Liz Helfer, Linda Hoffman, Susan Israel, Janet Kawada, Sarah King, Madeleine Lord, Rebecca Tuck, Bill Turville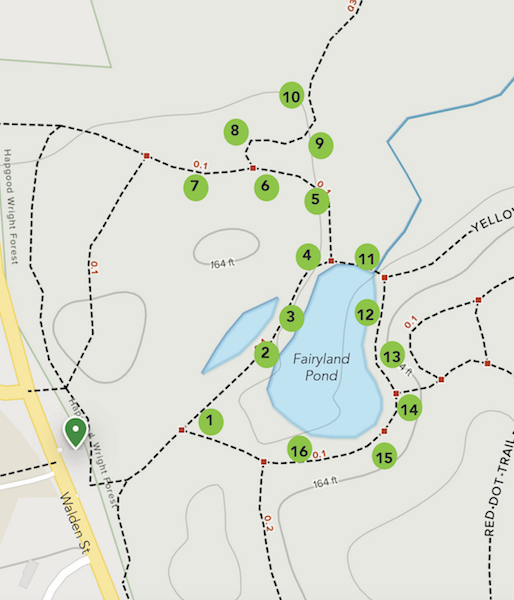 More About Participating Artists and Installations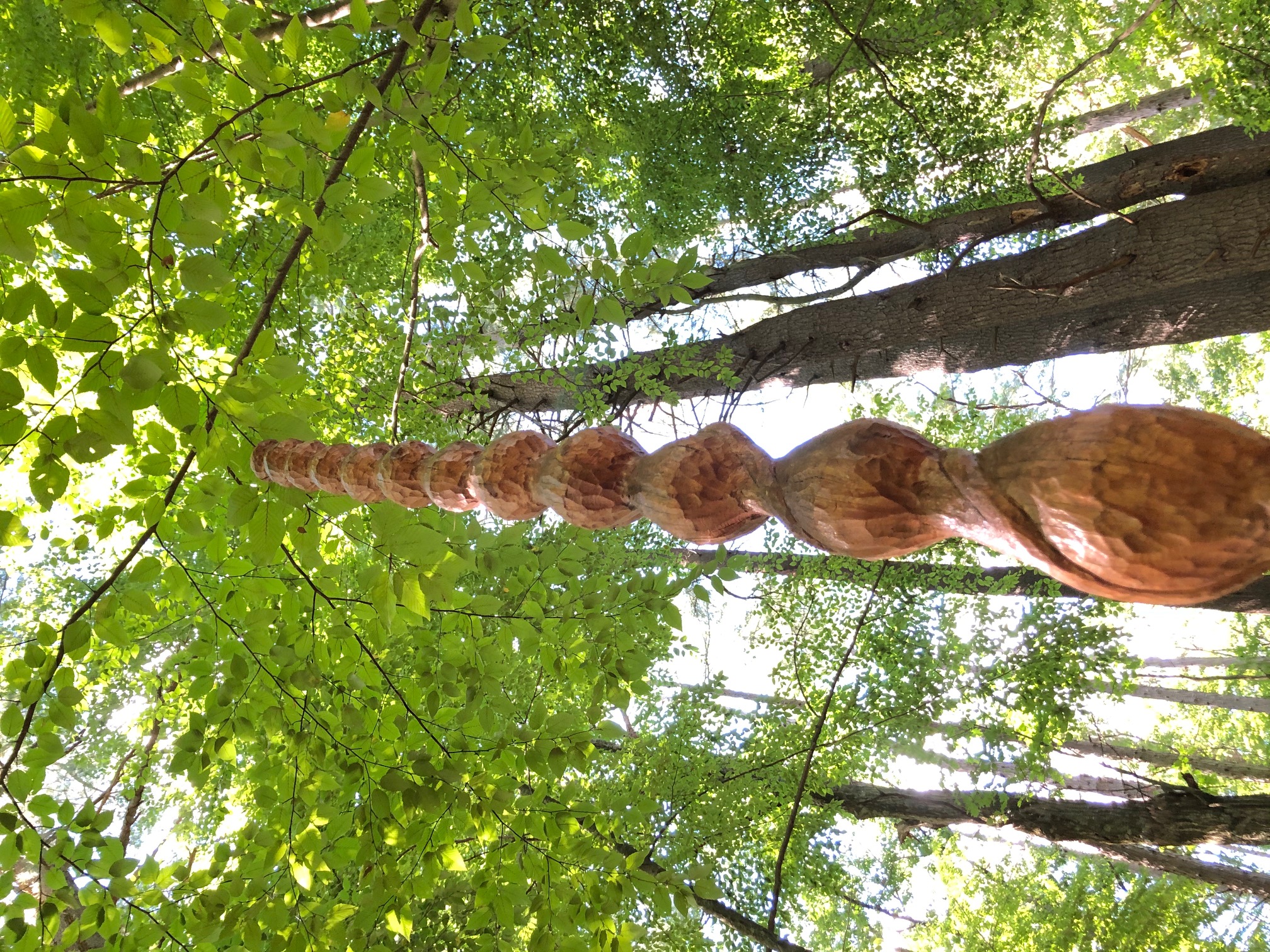 Anne Alexander - Seminal Pole (7)
Bio
Anne Alexander lives in a village on The Presumpscot River in Southern Maine, where she creates sculpture in wood, stone, and clay. Her work is frequently exhibited in galleries and exterior sculpture shows throughout the United States. Grants received include; 2 Pollack- Krasner Grants, a Fulbright to The Dominican Republic, and a current Maine Crafts Association Apprenticeship Grant to study granite carving with Thomas Berger of Kittery, ME.
annealexandersculptor.com
Artist Statement
Cedar
This piece strives to connect earth to sky, pushing upward, suggesting a growing plant with a snake or vine like form spiraling around the central core. Please google "Anne Alexander Sculptor" to see additional examples of her work in wood, stone, and clay.
Paul Angiolillo - Rain & Fire (5)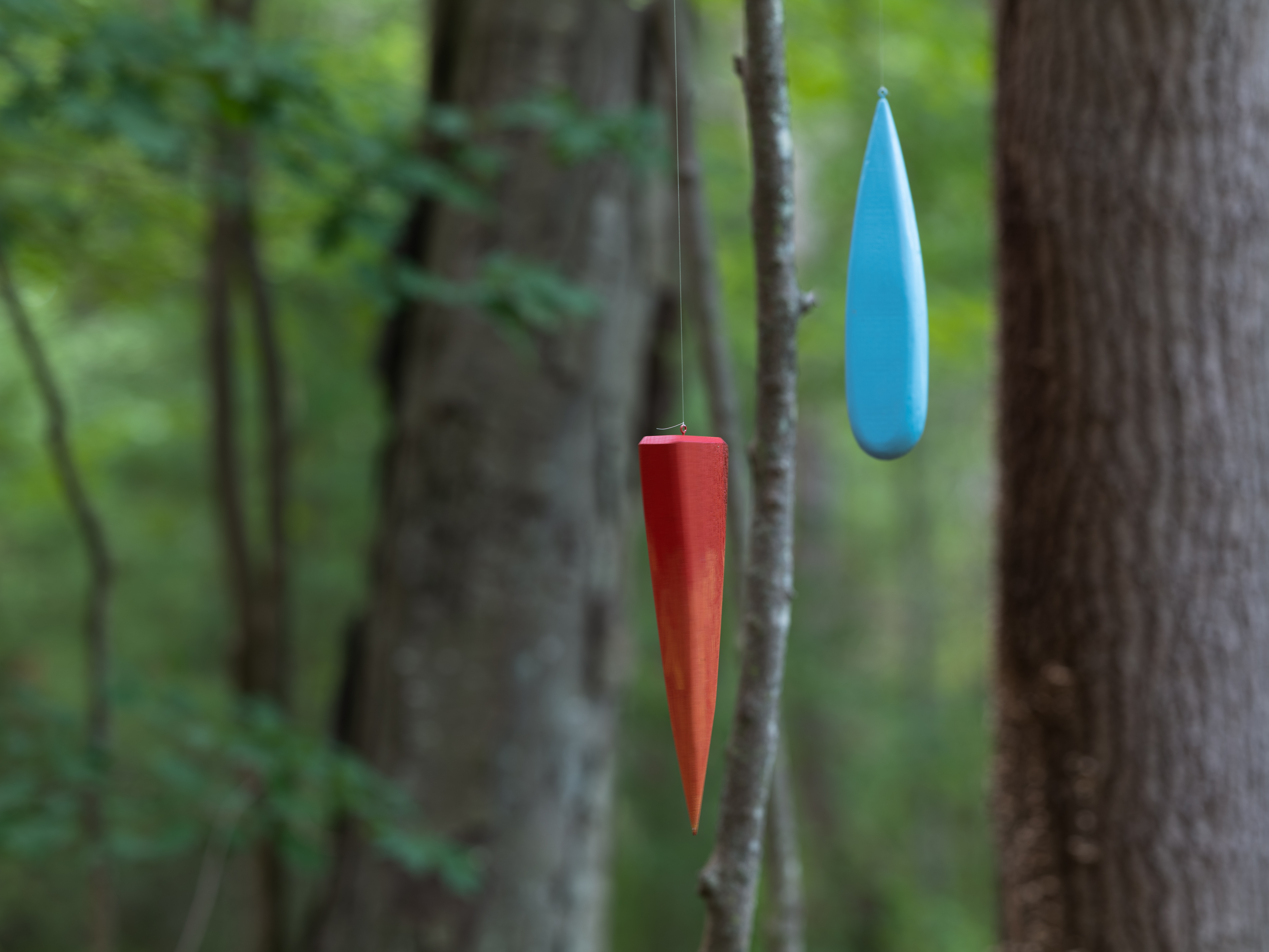 Bio
Paul Angiolillo has been creating sculptures and furniture art in wood, stone, and found materials since around 1998. After getting a B.A. from Yale University in English literature, he studied sculpting with Joseph Wheelwright in Boston and Peter Smith in Princeton NJ. He has shown his sculptures in numerous venues, including outdoor exhibits in MA, NH, and NY, the gift shop at the DeCordova Museum in Lincoln, the shop at the Fuller Craft Museum in Brockton MA, the State Center at M.I.T, Arsenal Center for the Arts in Watertown MA, Fells National Historic site in Newbury NH, and Mod20 Gallery in Belmont MA .
www.paulangiolillo.com
Artist Statement
Wood, paint, stain
Water falls, evaporates, and nourishes everything. It also babbles, cools, reflects, glitters, and revives, both materially and mentally. Fire is another matter (and energy): it warms and vivifies, tempers and purges--or melts, suffocates, and destroys. The two have existed in a dynamic equilibrium for millennia. It's an equilibrium to be nurtured and celebrated--and sometimes fought for.
Laurie Bogdan & Kimberley Harding - Confluence (16)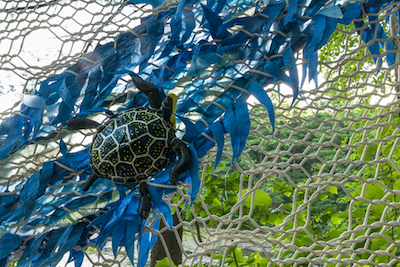 Laurie Bogdan Bio
I am a collage artist from Arlington MA. I am involved in the growth of ArtLinks, a local arts networking group and have contributed to a variety of public art and environmental projects. In a world where many ordinary objects and books are tossed away or not appreciated I try to find a way to reimagine and bring new life to them
yourturnart.blogspot.com  
Laurie Bogdan Artist Statement
Rope, garden poles, reclaimed plastic bags, Tyvek, acrylic paint
As the Sudbury, Assabet and Concord rivers join together, so also should their neighbors join to keep them healthy. Over the years human activity has had a negative effect on the well-being of this river system. The extremities of "Confluence" depict the pollution from the textile industry, mercury build up, and the excess silt and algae bloom caused by climate change. The rivers' convergence provides a brighter, more hopeful view, portraying local efforts to mitigate the damage.
Kimberley Harding Bio
Using basketry techniques, Kimberley Harding creates sculptural weavings inspired by nature and personal experiences. She strives to create objects that induce the urge to touch – something that seems forbidden. Originally trained as an educator, Harding expressed her creativity within the constraints of teaching, family, and volunteer endeavors. Her work has always involved fiber techniques such as loom weaving, sewing, knitting, crochet, resist dyeing and embroidery. First introduced to basketmaking in 2015, she remarked, "I feel as though I am recalling an alternate life when weaving – I am certain I did this before."
www.kimberleyharding.org/
Kimberley Harding Artist Statement
Rope, garden poles, reclaimed plastic bags, Tyvek, acrylic paint
For more than 200 years, the Sudbury-Assabet-Concord river system has been damaged by human activities such as the building of dams, industrial waste dumping, and nonpoint pollution. This damage has decimated the shad and alewife populations, which cannot travel to spawn; entrapped heavy metal and PCBs in the sediment; and released excess nutrients causing a scum of algal bloom and duckweed and further damaging fish and other aquatic life by reducing available oxygen. Since the 1970s efforts to improve the water quality and quantity, preserve habitats, and deal with invasive species have made improvements, but there is still much work to be done. We aim to inspire 2020 Art Ramble visitors to come together, like the rivers, to take action in preserving and improving this treasured river system.
Joanne DeSimone Reynolds - Exhibition Poems
Bio
Joanne DeSimone Reynolds is the author of a chapbook, "Comes a Blossom" published by Main Street Rag in 2014. Her poems have appeared widely in print and online. She is a long-standing participant in Plein Air Poetry at Old Frog Pond Farm in Harvard, Ma. She lives on the south shore of Boston, but will always be a Jersey girl.
Artist Statement
I would like to thank Susan Israel and The Umbrella Arts Center for giving me the opportunity to participate is this exhibition. And thank, too, all the sculptors for creating inspired and thought provoking work. It has been a pleasure to respond to it through poetry.
Sally Fine - Civilization: Climate Refugees, 2019 (11)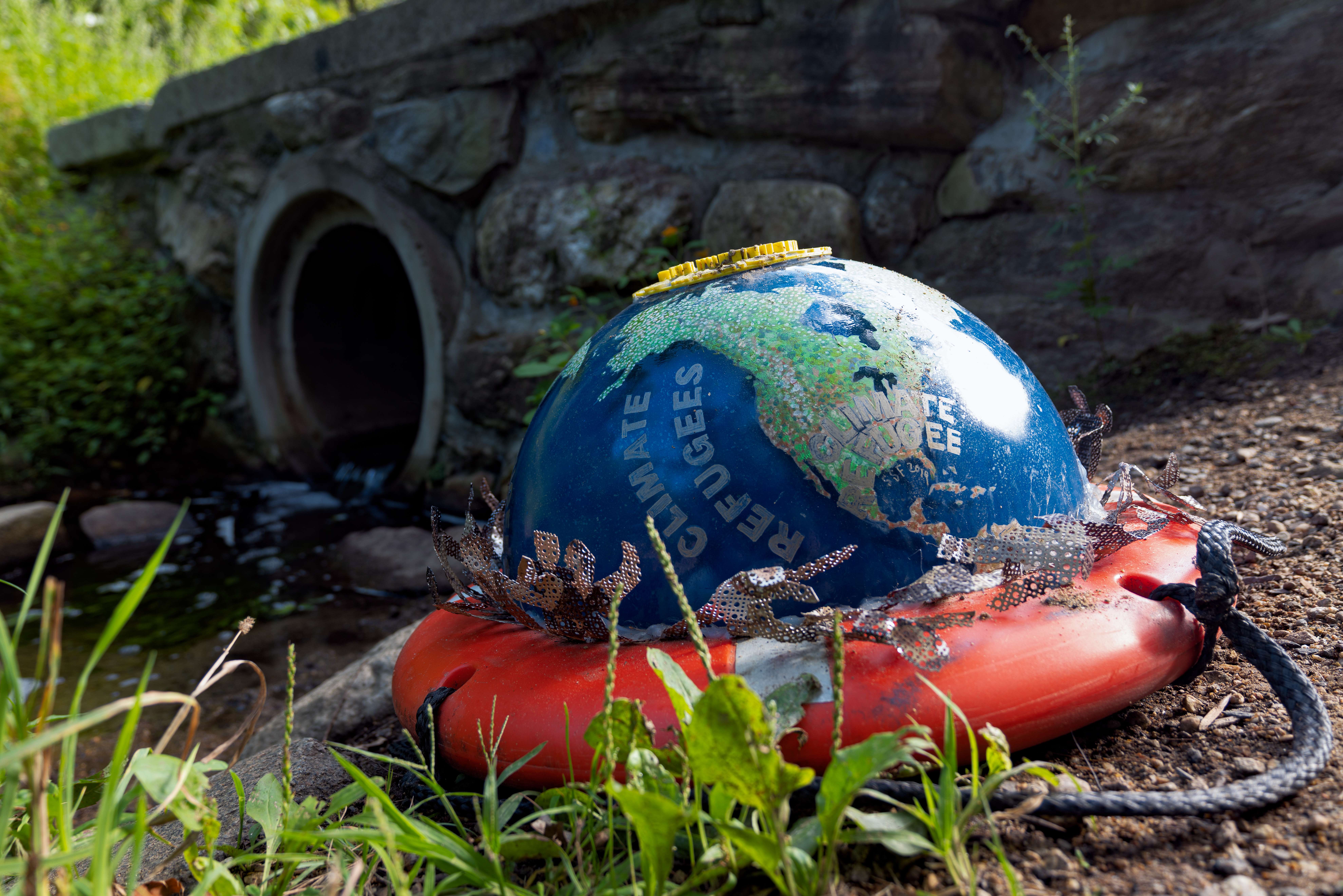 Bio
Sally Fine is a sculptor working in Falmouth, MA. She is an exhibiting member at Boston Sculptors Gallery in Boston. Her work addresses climate change and ocean issues. She holds an MFA from Boston University and a BFA from Ohio University. Her work is in numerous collections regionally and internationally.
www.sallysfine.com
Artist Statement
Glass buoyancy ball, paints, life preserver, metal
This sculpture shows the northern hemisphere rimmed with climate refugees . The data rings at the artic show projections of climate refugees statistics:50 Million climate refugees by 2020, 143 Million climate refugees by 2050. The glass dome is a repurposed buoyancy ball from Woods Hole Oceanographic Institute.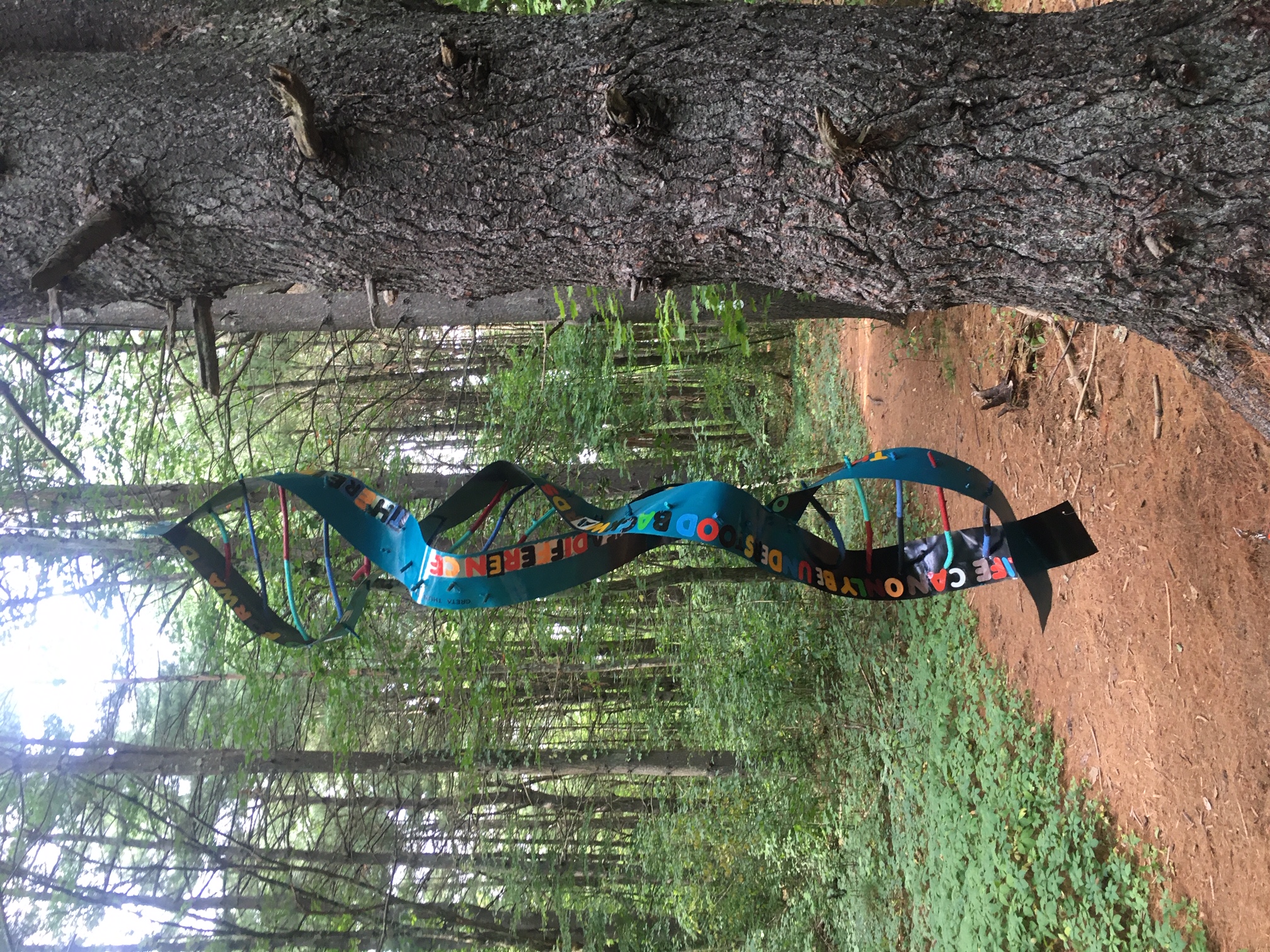 Barbara Fletcher - Double Helix (9)
Bio
I earned a BFA in Commercial Art at Syracuse University . For over thirty years I have been a sculptor of paper and mixed media materials depicting the humor both dark and light I see all around me. Although primarily a sculptor I have also experimented with mono prints and paper collage. My art has been commissioned for both residential and commercial venues as well as inclusion in many prestigious juried shows.
www.barbarafletchermixedmediaartist.com
Artist Statement
Painted Aluminum
The helix structure represents upward movement to me but it could be viewed as downward or lateral.There are multiple paths we may take as a race. I hope for the positive therefore I am adding inspiring and even humorous quotes by environmentalists and activists. I would also like to acknowledge Rosalind Franklin the scientist who's beautiful design was borrowed by Watson and Crick and never credited.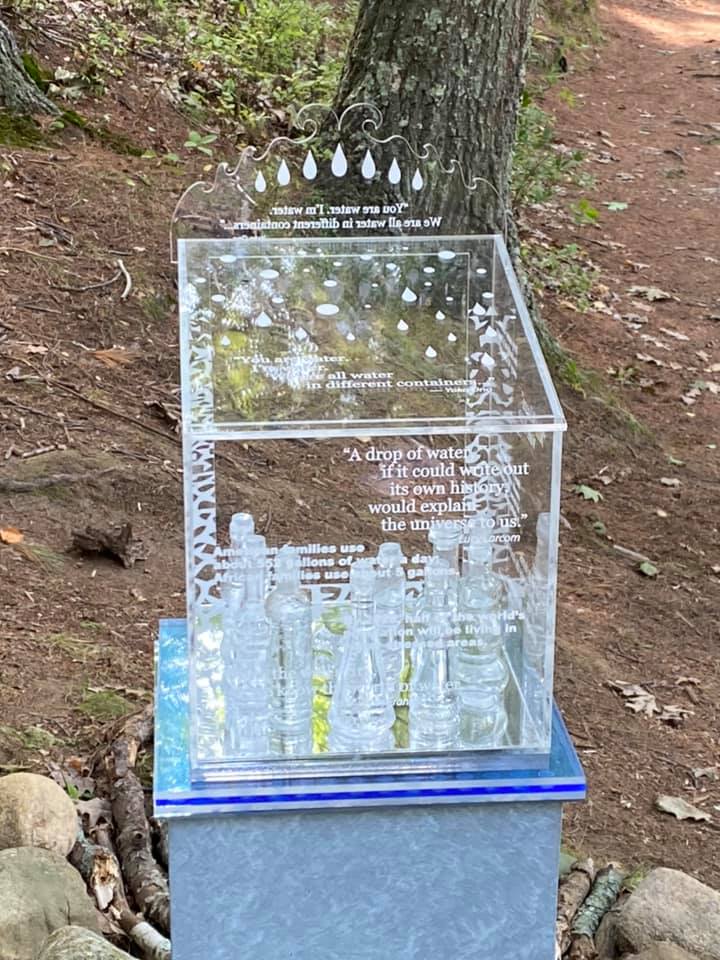 Jen Fuchel - Brought To Our Knees: A Shrine to Evaporating Dreams (12)
Bio
Jennifer Fuchel is a fine artist, graphic designer, and associate professor at Suffolk University. She works in a broad range of materials, both within the traditional and digital parameters of art, and encourages others to develop skills in a variety of media. Much of Fuchel's work is nature-based, and she has been involved in several exhibitions and collaborative projects. Jennifer also has a studio space at Vernon Street in Somerville.
www.niftyarts.com
Artist Statement
Acrylics, glass, water
Fuchel created this art piece/shrine to encourage visitors to reflect on the preciousness of water. Water is the most valuable thing in our world; without it, life ceases to exist. It is awe inspiring! It should be honored, cherished, and protected. Sadly, over 25% of the world's population doesn't have access to a clean water supply. This number will rise unless we do more to preserve our ecosystem. And if we fail, we will be holding vigils for water.
You are invited to kneel before this shrine. Contemplate the bottles that represent different water sources in our world. Read the words of spiritual leaders, poets and philosophers about their watery thoughts. Breathe and feel the water around and in you, in the air, in Fairy Pond, in your body.
Liz Helfer - Quack/Honk (3)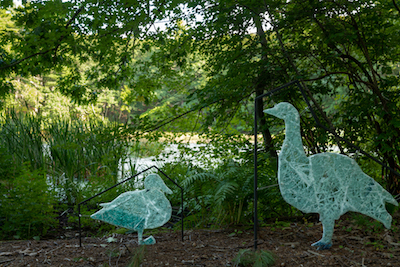 Bio
Liz Helfer Studios is located in Waltham, MA. Material choice plays a critical role in my sculpture practice. I have focused on metal since 2009 because of its historical complexity and perceived value. However, I have been moving away from singular material choices and have moved into a mixed media practice that addresses our impending environmental peril.
www.elizabethhelfer.com
Artist Statement
Windshield glass and steel
I often wonder what animals think of us. "Quack Honk" is a vignette pulled from a larger installation of 13 New England creatures. The goose and mallard silhouettes are in conversation, much like how I see them occupying the same space near my studio. Although overtly humorous, there is a dark undercurrent to their interaction. They are made of shattered windshields, meant to evoke a human hand and literal impact. All of the creatures represented in the full tableau are commonly known, seen, and generally disregarded as part of the background. They die every day, by accident or intentionally. The windshields give the forms a ghost-like presence and invite reflection; to help us see ourselves in the world around us.
Linda Hoffman - I The Faucet, II Prayer for Rain, III The Well is Dry, IV No Water No Food (1)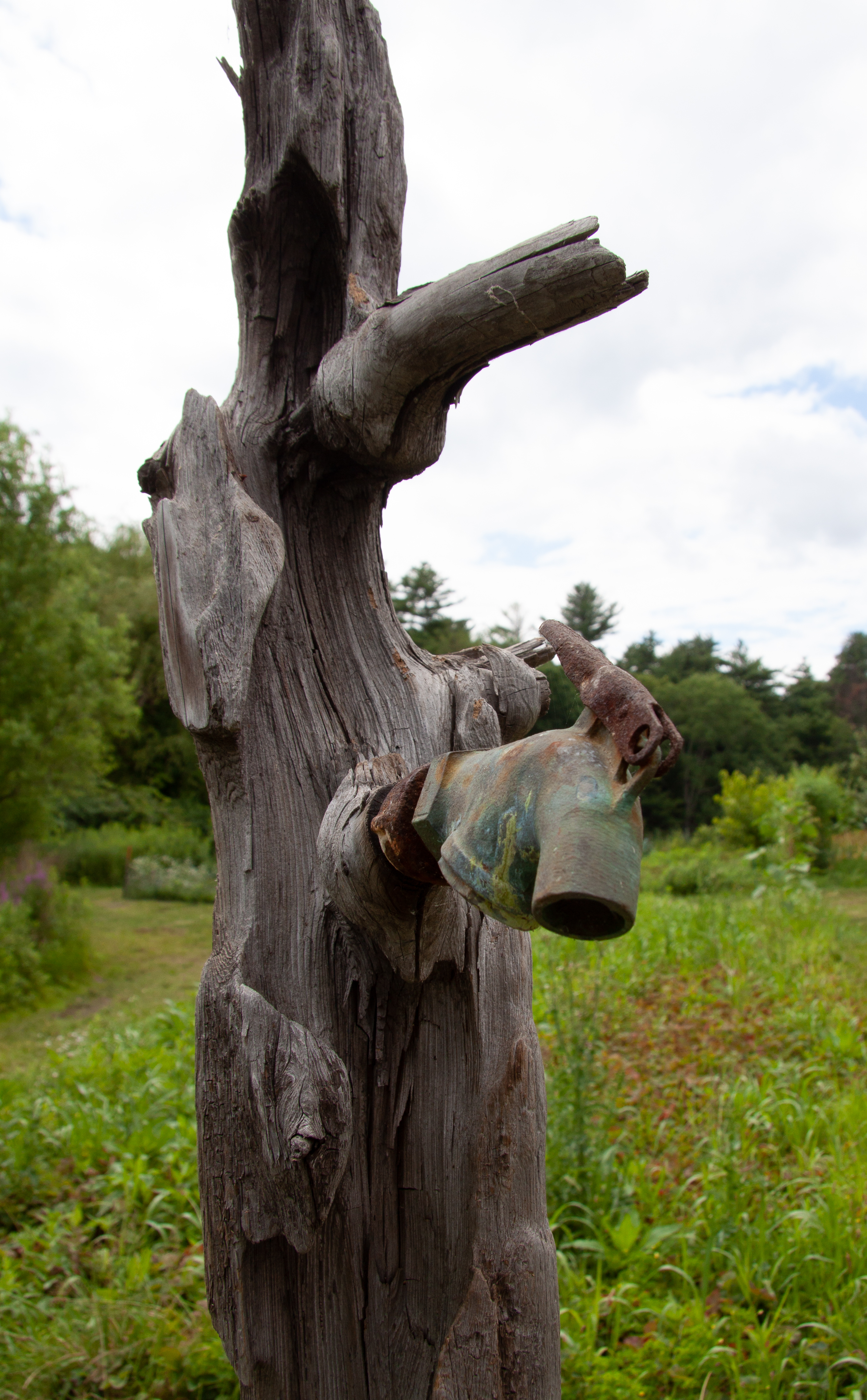 Bio
Linda Hoffman has been part of the New England artist community since the early1980's. Her art includes indoor and outdoor sculpture, public installations, digital prints, three chapbooks of poetry and the Fine Art letterpress book, Winter Air. Hoffman's work is in the collections of Harvard University, the Boston Public Library, the Pierpont Morgan Library, NY, Hechinger Tool Museum, DC, and outdoors in the Towns of Wellesley, Groton and Acton, MA, and Littleton, NH. She is the orchardist at Old Frog Pond Farm & Studio in Harvard and curator of the farm's annual outdoor sculpture exhibit. 
www.lindahoffman.com/blog
Artist Statement
Mixed media
For the 2020 Art Ramble, Water Change: Where Spirit, Nature, and Civilization Meet, I chose to make a group of sculptures that express our need for fresh water. What will life be like if the well is dry? How will grow crops? How will we cook? I use old objects and natural materials to evoke our connection and dependence on the natural world. The small bronze figures could be each one of us striving to live with equanimity and commitment in a world that is often divided and harsh. Art can draw us closer together and gives us hope. Thank you, Susan Israel, Nancy Lippe, and The Umbrella for hosting this exhibit.
Susan Israel - Migration (15)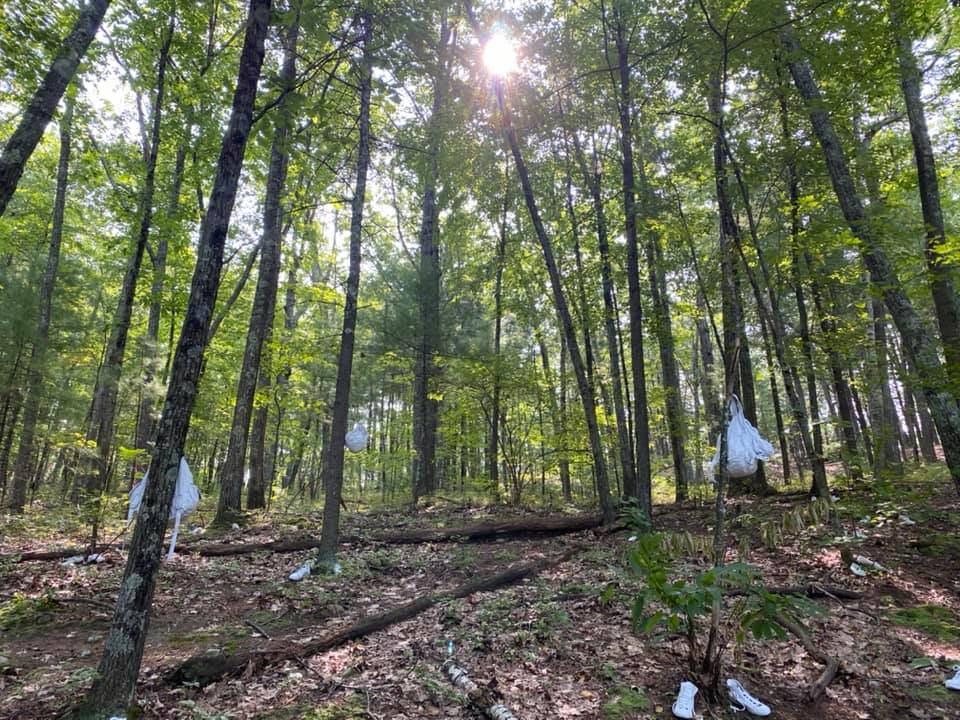 Bio
Susan Israel, Founder of Climate Creatives, uses art and design experiences to empower people to act on climate. Her participatory public art projects educate and engage communities and have been installed nationally and internationally. Her sculpture has been in numerous group exhibitions, including at the New Bedford Museum of Fine Arts. Susan is a licensed Architect and LEED AP, and previously had her own practice for 20 years. She graduated from Harvard College and Harvard University Graduate School of Design, and attended the School of the Museum of Fine Arts in Boston.
climatecreatives.com
Artist Statement
Reclaimed objects, paint
All species are responding to relentless changes in their habitats due to climate change. Fleeing too little or too much water and heat, plants and animals have begun a massive global migration.
Each pair of shoes here represents an estimated 12.5-50 Million climate migrants by 2050 (25 Mil - 1Bil total, United Nations University). 30 - 50% of plant and animal species could go extinct by 2050 due to climate change. Many of the rest will survive by migrating. Vote for lawmakers will act on climate change. Learn what else you can do: https://climatecreatives.com/resources.
Janet Kawada - Row Row Row your boat (2)

Bio
Janet Kawada received her BFA from Massachusetts College of Art and MFA from Vermont College. She recently retired from MassArt. She has taught numerous workshops around the area in addition to curating. Her work can be found in collections around the United States, Canada, and Japan. Kawada is included in the book, Artistry in Fiber, Volume 2, Sculpture. In her recent work she is exploring the theme of place, home, and the footprint we leave on the earth.
www.janetkawada.com
Artist Statement
Window screening and wire
The boat is a form I have used for decades. In this iteration the method of origami, using screening instead of paper, demonstrates impermanence. The simplicity of form, quiet movement and reference to passage was important. One can feel a sense of freedom as when you are on the water and the wind is surrounding you as you steer that boat, in control of your passage. But, not really, as the water has an immense power of it's own.
Sarah King - Fading Fast (10)

Bio
Sarah King is an interdisciplinary artist and a practicing early childhood educator. She studied Sculpture at Massachusetts College of Art and Design in Boston, MA. There she balanced her time between creating large scale metal sculpture and volunteering at a neighboring elementary school. She now teaches Kindergarten in Cambridge, MA. Recently, she has been exploring the material possibilities of concrete pulp in her garage. On the weekends, she likes to be outside with her family and their six dogs!
Artist Statement
Concrete pulp, recycled materials, wood, paint
Sculpted almost entirely from recyclables and throw-aways, these melting ice caps present a satirical look at the lasting effects of the human carbon footprint. Our careless destruction negatively impacts the natural environment and animal inhabitants. These polar-bear colored pieces beg for internalization, empathy, and action, as homes for some are literally melting away underfoot.
Madeleine Lord - Swan Lake (8)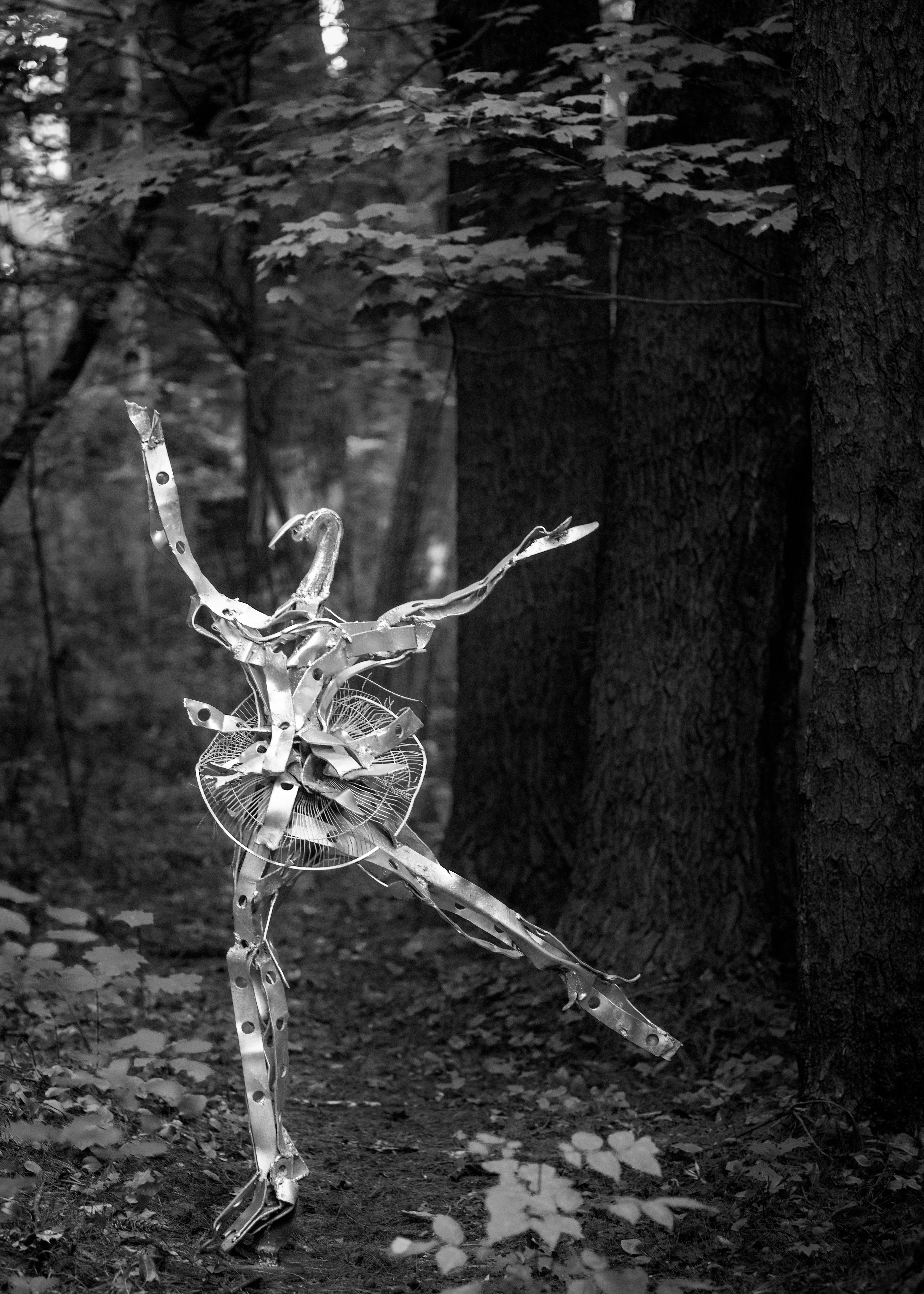 Bio
Madeleine Lord has worked with steel for over 30 years and has numerous permanent public art installations in New England and nationally. Local public art includes a "Giraffe", "Ostrich", "Mr. Bo Jangles" and "Angel" owned by the Federal Reserve Bank of Boston. She has work this summer in the following juried exhibits: The Fells Historic Estate and Gardens, Newbury NH, Outdoor Art Experience 2020 in Jamestown RI and SculptureNow (digital only) at the Mount, Lenox MA .
www.mlordsculpts.com
Artist Statement
Welded scrap steel, painted
Swan Lake started with the old fridge chrome handle that looked like a swan's bill. I had a pile of nickel chrome strips all bent and with holes. To me the scraps looked like a feathers. I loved ballet as a child and attended many performances in my home town Pittsburgh PA. Swan Lake costumes and music were a favorite. It took several years to get this piece just right. The finish is aluminum spray paint.
Rebecca Tuck - Mare, Terra, Vento (13)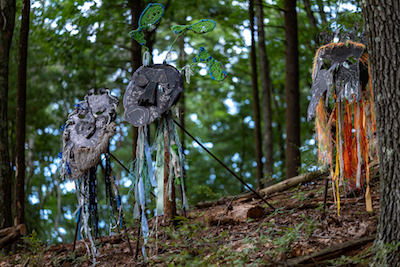 Bio
After a 25 year hiatus to raise her family, Rebecca McGee Tuck received her BFA from MassArt in 2019. Her work has been juried into exhibitions around New England. Tuck won first place in "Emergence: Bring to Light" at Piano Craft Gallery in March and recently received the 2020 Present Tense Award from Arts Worcester. This honor is given to an artist whose work exemplifies new techniques, risk taking and excellence in execution. Her first solo show "Along the Wrackline" is hosted by Arts Worcester in December. She works from her studio at the Mill Contemporary Art Studios in Framingham.
www.rebeccamcgeetuck.com/
Artist Statement
Steel and various fabrics
I use primarily recycled and found materials in my art practice because I care deeply about our environment. I walk the wrack-line of the coast, collecting debris that could cause harm. This sculpture was planned as I learned about Covid-19 wreaking havoc in Italy. Little did I know at the time how close the virus would reach. Masks are vital to protect each other from this virus, therefore I created protection masks for the sea, earth and the air. While we are dealing with this global pandemic, let us not forget about our ongoing efforts to prevent climate change.
Bill Turville - Return in the Rain: Listening Wood Chair (4), Return in the Rain: Listening Bench (6), Return in the Rain: Listening Twig Chair (14)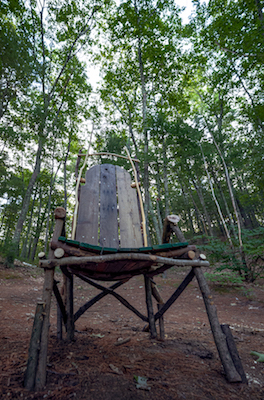 Bio
William Turville, a practicing architect and sculptor and a graduate of Pratt Institute, creates and exhibits personal and commissioned studio art, builds public and community art installations, and teaches 3D art to children. For fifty years, since carving stone and wood for a Manhattan church and founding a recycling center in New York City for the first Earthday, he has designed theatres, galleries, exhibits, millwork and furniture, and numerous commercial and residential projects; worked in bronze, stone, aluminum, wood, sheet metal, steel, ceramics, and found and recycled materials; has created studio furniture and art vehicles; created public/community art; consulted with art organizations on facilities and public art; and continued his environmental activism. Personally and collaboratively and often with unusual materials, objects and techniques, he creates expressive, unique, specific and idiosyncratic sculpture and installations inspired by his relationships with people, places and causes, and controversial or timely subjects, often related to environmental causes or social justice. He responds to his immediate experience in a specific environment, desiring to create a change or develop a message regarding this experience, using almost any materials, mediums or combinations of mediums at various scales.
Artist Statement
Mixed found, fabricated, or refabricated wood
Why do we hesitate to experience water falling from the sky? Rain is just another form of weather. Enjoy your forest walk on warm sunny days. But, please, return in the rain. A wet forest is different: noisier or quieter, mysterious. It smells and looks different. Fauna and flora respond uniquely. Experiencing rain helps us appreciate the marvel and importance of clean water in the environment of which our lives are an integral part. So, sit quietly, relax, stay as long as you can; listen closely; breathe deeply ...in the rain.
Also of Interest
How Climate Migration Will Reshape America
By Abrahm Lustgarten, New York Times
Millions will be displaced. Where will they go?
TEDxTheWaldenWoodsProject
Saturday, October 10, 11:00am - 3:45pm EST
Champion and accelerate solutions to the climate crisis, turning ideas into action.