The Umbrella @ Home Coffee House Cabaret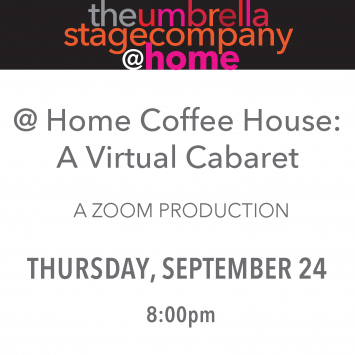 September 24, 8PM
@Home Coffee House
A Virtual Cabaret
Join us as we welcome back some of The Umbrella's favorite alumni for a virtual mini-concert. Performing from their own homes, these familiar faces will sing a few songs, tell a few stories and catch up with one another via Zoom. 
Featuring Jess Andra, Sean Mitchell Crosley, and Kara Chu Nelson
FREE, but RSVP Required
Sean Mitchell Crosley appeared at The Umbrella most recently in the role of Miles Tuck in Tuck Everlasting. Among other credits, he has also appeared as a featured soloist and ensemble member in the North Shore Music Theatre's production of Jekyll & Hyde; and in The Umbrella's productions of Hair and Bonnie & Clyde.  Other roles include Luke in Altar Boyz and Mr. Keller/Ensemble in She Loves Me at the Greater Boston Stage Company. Seanmitchellcrosley.wordpress.com
Jess Andra appeared at The Umbrella last season in two roles -- Abigail in Hundred Days and Mother in Tuck Everlasting. Also at The Umbrella: Big Fish, Jesus Christ Superstar, Side Show and Evita. Jess is a graduate of The American Musical and Dramatic Academy in NYC. Select other productions include: Men on Boats, A New Brain, The Full Monty (Cape Rep Theatre), Diary of Anne Frank, Polkadots: The Cool Kids Musical (Dreamland Stage Company), Murder Ballad (Wilbury Theater Group), Into The Woods, Oliver!, As Time Goes By (Seacoast Repertory Theater).
Kara Chu Nelson last performed at The Umbrella in the role of Rose in Joy Luck Club. Kara has also worked at North Shore Music Theatre, Seacoast Rep, Hackmatack Playhouse, Patrick Dorow Productions, and Fiddlehead Theatre Company, among others.  Favorite past roles include "Somewhere" Girl in West Side Story (Hackmatack and Fiddlehead), The Mistress in Evita (The Umbrella and Regatta Players), Éponine in Les Miserables (Norton Singers), and Hope Cladwell in Urinetown (Longwood Players).
Cast
Jess Andra
Sean Mitchell Crosley
Kara Chu Nelson