Scentsation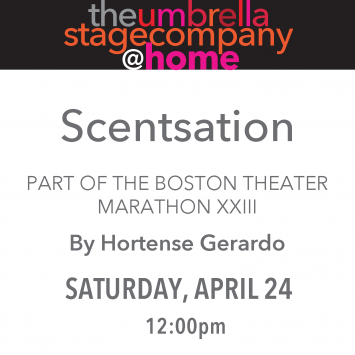 April 24, 12PM
Written by Hortense Gerardo

Directed by Nancy Curran Willis
When Lily, a medical doctor, learns her recent ex-partner will be her patient at the walk-in clinic, she conducts a "scentsational" test to help Pino recover more than their lost sense of smell.
Featuring Michelle Aguillon and Dustin Teuber
The Umbrella Stage Company is proud to sponsor another upcoming collaboration by Gerardo and Aguillon for the Boston Theater Marathon XXIII. The Marathon is a free event supporting the Theatre Community Benevolent Fund, which provides financial support to theatres and theatre artists in times of need.
Also of Interest
Written by Hortense Gerardo, Directed by Michelle Aguillon
Starring Naomi Ibasitas, Ankur Singh, and Shani Farrell
Angela invites Blaine and Chet to a socially-distanced house warming party on Zoom to celebrate having moved into her new home. But things are not quite settled in the new environment. Join the three friends as they conjure ways to honor the ghosts from the past to make room for the future. Missed it in March? Rewatch the video now!
Cast
Michelle Aguillon
Dustin Teuber
Staff
Written by Hortense Gerardo
Directed by Nancy Curran Willis