Dr. Smarty in the New Normal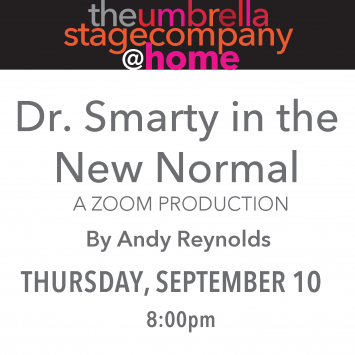 Dr. Smarty in the New Normal
September 10, 2020
Restricted Capacity: RSVP REQUIRED
Written by Andy Reynolds
Directed by Nancy Curran Willis
In the midst of COVID-19, 82-year-old Henry is diagnosed with Type 2 diabetes. Referred by his doctor for nutrition education, Henry reluctantly starts weekly meetings via Zoom with 32-year-old nutritionist Peter. Over a few short weeks, the two seemingly disparate men grow inexplicably close, drawn together as much by circumstance as their similarities. A wry, comic look at a very unfunny time.
To RSVP and receive the link to the event, register here
About the Playwright
"I write plays that focus on struggles with being gay and health issues, not necessarily in that order," says playwright Andy Reynolds. His full-length plays include The Memory of Mollusks (Finalist, 2012 Eugene O'Neill Center National Playwrights Conference), Dark Hole (Semi-finalist, 2013 O'Neill Center NPC; Finalist, Hidden River Arts Playwriting Contest), Eucatastrophe (Winner, 2009 Kaplan Prize), and The Sordid Perils of Actual Existence (co-written with Tom Gladwell and produced at Theater for the New City in 2007). More recent work includes The Last Days of the Contract Player (Berkshire Voices reading 2019) and There Are No Words (Great Barrington Public Theater reading 2019). His short plays include A Departure (2017 Radius Playwrights Festival, recorded for Playing on Air podcast directed by Michael Wilson and featuring Len Cariou and Michael Urie), A Menagerie of Sorts (2006 Tennessee Williams Festival), Retreat (Provincetown Theater), Like You Care (co-written and performed as part of MotherLode Collective at the Ontological Hysteric Theater), and A Visit From a Nightingale (Payomet Performing Arts Center). Reynolds is a graduate of Bard College and currently lives in the Berkshires, where he works as a freelance grant writer for many area nonprofit arts and human services organizations.
The Umbrella Stage Company @ Home New Works series features short-length original works by local playwrights written to optimize virtual performance environments and digital theater experiences. 
Cast
Ryan MacPherson as Peter
Fred Robbins as Henry
 
Staff
Written by Andy Reynolds
Directed by Nancy Curran Willis