The Color Purple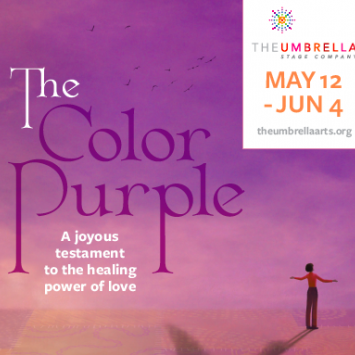 The Color Purple
May 12 - June 4, 2023
Based on the novel by Alice Walker
By Marsha Norman
Music and lyrics by Brenda Russell, Allee Willis, and Stephen Bray
Directed by BW Gonzalez
This glorious musical adaptation of Alice Walker's Pulitzer Prize-winning novel spotlights Celie, a young woman whose personal awakening over the course of 40 years forms the arc of an epic story. With a joyous Tony Award-winning score featuring jazz, ragtime, gospel, African music and blues, The Color Purple is a story of hope, an intensely moving American classic, and a triumphant theatrical treasure.
CONTENT WARNING: The Color Purple contains overt racism and sexism, as well as depictions of physical and sexual violence, and also alludes to rape and incest. We recognize that sensitivities vary from person to person; parents should use discretion about what is age appropriate for their children.
"One of the best productions I ever seen by The Umbrella Stage Company...The whole cast seemed to be drawing on some deep well of feeling and love and it spilled over into the audience...Don't miss it!" - Joyce Kulhawik, Joyce's Choices
"The company delivers powerful and poignant performances across the board...[a] cast of triple threats' vocal talents (supported by the kickass combo of 8 musicians) soar – and literally raise the roof...With a full heart, I wholeheartedly recommend this production. I also recommend that you bring friends, family, and tissues." - Linda Chin, Theater Mirror
OPENING WEEKEND AUDIENCE REACTIONS
"All praises for The Color Purple production at The Umbrella Arts Center! A cast of soul-stirring triple-threat actors whose performance is a celebration of life and not to be missed. If you have not seen the show, run don't walk to get your ticket now!" - Stephanie M.
"This show was amazing! In fact, I am planning to volunteer for ushering so I can see it again!" - Steve B.
"The incredible performances by this amazing cast had us in tears last night. This is a must see. Don't miss it." - Ellen M.
NEW:  Community Activities, Enrichments throughout The Umbrella Stage Production of The Color Purple
The Umbrella Stage Company is excited to announce a planned series of community activities to support and enrich theatergoers' experience of this spring's production of The Color Purple. From talkbacks with the cast and moderated discussions on the show's themes, to childcare and packaged meal options, to informative guided tours exploring the stories of Women and African Americans throughout Concord's history, audiences will have several opportunities to engage more deeply and comfortably with this "exuberant celebration of community and female empowerment" (The Guardian). Read More
Black Joy Celebration!
A 'Color Purple' Event
Where: The Umbrella Arts Center
When: Sunday, May 28th @ 3pm
Potluck-style picnic on the lawn to follow the show
Come join us at The Umbrella to celebrate Black joy with the artists behind our production of The Color Purple. We encourage Black and brown folks to fill our audience for a celebratory Sunday matinee. Afterwards, we'll head out of the theater and out onto the lawn. We'll turn the music on and enjoy a potluck-style picnic to celebrate the joy and beauty of Black community. The Umbrella will provide picnic food, and the bar will be open for purchasing drinks and refreshments. But in the spirit of community, we invite all to bring a dish to share (just keep in mind we can keep food cold during the show, but we will not be able to heat any dishes). All are welcome to attend this celebration of Black joy.
NEW! #DinnerAndAShow Thursday Night Out Packages!
Thursdays in Concord are now a fun and easy entertainment Date Night thanks to optional pre-show dinners here at The Umbrella provided by Nosh restaurant and the Concord Market! Coming straight from work? Park free at The Umbrella, then take a load off and enjoy a delicious catered dinner, pick up beverage at concessions, and explore our free art galleries at your ease until it's time for curtain!
Our Chef-Planned Themed Menus for The Color Purple
ENTREES
Cauliflower Pimento Mac and Cheese
BBQ Pulled Pork Mac and Cheese
Seared Mustard Salmon with Apple Celery Slaw and Jalapeno Cornbread
DESSERT
Grilled Peaches with Mascarpone
Dinners must be ordered online by NOON on Wednesday before  the performance. NOTE: Meals cost $21 and do NOT include beverages or show tickets, which must be purchased separately. After selecting your seats, click on The Color Purple ticketing options and select the meal(s) you wish to add to your cart before checking out.
SPOTLIGHT ON THE COLOR PURPLE
LITERATURE: The Umbrella is proud to partner this season with our friends at The Concord Bookshop. For each show this season they'll be recommending some related titles to add to your reading list and enhance your theater-going experience. Want to start reading now? The links below will bring you directly to The Concord Bookshop website where you can order your selected title and support your local business community.
Cast
Shy'Kira Allen as Celie
Schanaya Barrows as Olivia
Randell Benford as Adam/Bobby
Kai Clifton as Sofia
Yasmeen Duncan as Doris
Fatima Elmi as Ensemble
Crystin Gilmore* as Shug
Aaron Graham as Ensemble
Jordan Aaron Hall* as Harpo
Sydney Jackson as Squeak
Brian Demar Jones* as Mister
Nicole Franklin Kelley as Church Soloist
Kayla Leacock* as Nettie
Dashawn McClinton as Preacher /Ol' Mister
Zachary McConnell* as Pa / Buster / Grady
Hanifa Nelson-Kamau as Jarene
Aloura "Aeon" Smith as Ensemble
Treshor Webster as Darlene
Staff
Producer: Brian Boruta
Director: BW Gonzalez
Music Director: Nathanael Wilkerson
Stage Manager: Anna Hanh*
Assistant Stage Manager: Nadine Sa
Choreographer: Najee Brown
DEI Consultant: Kira Troilo
Lighting Designer: SeifAllah Salotto-Cristobal
Audio Designer: James Cannon
Audio Op: Sarah Hobbs-Butler
Scenic Designer: Janie Howland
Scenic Charge: Page Evett
Technical Director: Al Forgione
Costume Designer: Danielle Domingue Sumi
Hair & Make-up Designer: Schanaya Barrows
Properties and Set Dressing: Sarajane Mullins
Crew: John Penney
COVID Safety Officer: Cathie Regan