Sean Lutz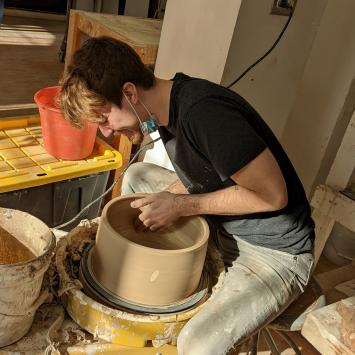 Sean Lutz is a Medford-based Interdisciplinary Ceramicist, Professor and Instructor, and Ceramics Studio Staff here at The Umbrella Arts Center. Since graduating from Lesley Art + Design in 2019 he has taught at several art centers in the Greater Boston Area including the New Art Center and the Fuller Craft Museum. He has recently earned his Post Baccalaureate Certificate in Ceramics from the University of Massachusetts Dartmouth and has exhibited through the United States.
Sean views the opportunity to work hands on with students as a social practice- constantly eager to learn through teaching.
Through de/reconstructed wheel thrown vessels and installation, Sean explores personal histories regarding attachment and consequence, esotericism, and desire.