Ponnapa Prakkamakul
2022-2023 Artist-in-Residence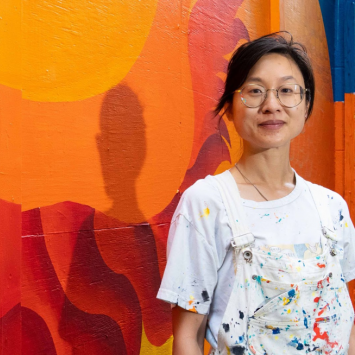 Ponnapa is a Thai visual artist and landscape architect based in Massachusetts. Her body of work overlaps between fine art and landscape design focusing on the relationship between humans and the surrounding environment. She uses the painting process as a tool to experience and form connections with landscape in order to gain a better understanding of cultural displacement and a sense of place as an immigrant.
Ponnapa holds a Master's degree in Landscape Architecture with honors from the Rhode Island School of Design where she received Lowthorpe Fellowship Award upon graduation. Her work has been featured in the Boston Globe, the Boston Herald, and the Provincetown Banner.
Ponnapa currently is a member at Kingston Gallery and a registered landscape architect at the interdisciplinary design firm, Sasaki.
Artist Statement
My artwork includes a broad range of practices from painting to public art, place-making/place- keeping, and participatory art-making. While some of the work overlaps between these fields, all the work is place-specific artwork that is inspired by landscape and people in those locations.
As a painter and landscape architect, I explore sites and environments by engaging with the landscape through the performative acts of searching, studying, and collecting natural materials to paint with -- such as soil, plant, groundwater, and rust from found objects. These materials from the landscape are applied on paper as the painting medium depicting the landscape scenes where they were gathered from.
Along the same line, in my public artwork, the community is a primary medium to help depict and shape the surrounding environment where they live. My public art projects focus on process and I immerse myself in archival research, on-site interviews, community workshops, and pop-up prototype tests to create participatory design opportunities. The goal is to support the community in expressing their voices and to create artwork that truly represents their identity, and cultivates a stronger sense of place.
View Ponnapa's Artist Talk