Meghan Murray
2016-2017 Artist-in-Residence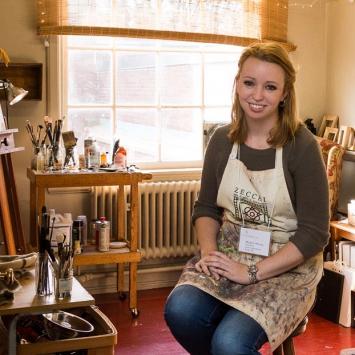 Meghan C Murray is an emerging painter, illustrator, and designer. She is a recent graduate of Skidmore College in Saratoga Springs, New York, where she earned a Bachelor of Science in Studio Art and Arts Administration and received extensive training in color, figure drawing, water-based media, painting, and art history. A native of Massachusetts, Murray draws inspiration from the landscape, culture, and historic arts community of Cape Cod.
Murray works in traditional oils to explore portraiture. She seeks to represent the intimacy of human relationships and social issues, evident in her Presence painting series, which deals with issues of mental health and the aging process. Murray also illustrates daily observations of her world through her careful and methodical art practice.
Murray is heavily influenced by her passion for literature, travel, and the performing arts. She currently lives and works as Artist-in-Residence at the The Umbrella Arts Center in Concord, MA.