Marie-Louise Bodman Petrie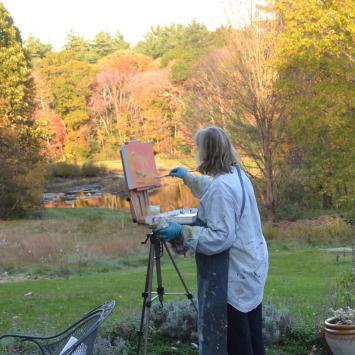 Educated at Amherst College (Fine Arts and English major), Philadelphia College of Art, Boston University School of Fine Arts, and Vermont Studio School, I am a landscape painter who works primarily in oils, pastels, and watercolor. My interest has been and continues to be the effect of color on mood and atmosphere, the role of light in a painting, as well as how color can create light.  Landscape creates an expressive space.  It provides an arena for mood, rich color, and fundamental human experience.
Through my studies I became more and more interested in how color can become a vehicle of emotion, of being moved.  I have always loved the large color field paintings of Rothko which overwhelm you with their color presence and the powerful emotional overtones set off by the reverberations between the colors. I studied the paintings of Wolf Kahn, Milton Avery, Fairfield Porter, Inness, Vuillard, and Josef Albers—who explore how color affects feeling, universal human experience, nostalgia, longing, its emotive power to move and be moved.
In my work I seek to uncover the clarity, surprise, revelation, and praise inherent in the world around us.  My artwork has become my notations of my daily experiences--the delights that make me stop and look. I want to reveal that glimmer of transcendent reality in the familiar that points to greater spiritual truth.
I live in Carlisle, MA , maintain a studio at The Umrella Community Arts Center in Concord, MA.