Liza Carter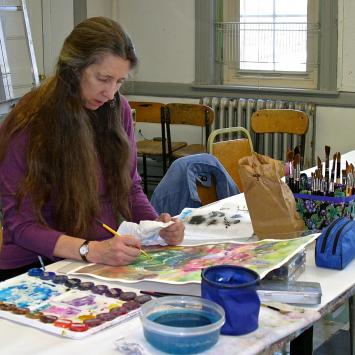 An environmental scientist by training, Liza has always focused on the relationship between humans and their environment; first through environmental advocacy, later through education and now through art. Liza has been an exhibiting artist since 1999 and has shown her work in solo and group shows throughout the United States.She is an author, painter and photographer. Her photography focuses on indigenous cultures around the world.
Her book, Moving with the Seasons: Portrait of a Mongolian Family, illustrated with her photographs, focuses on the life of the nomadic Mongolian family who became her collaborators in producing her book. It won seven national book awards.
 
As a painter, Liza looks to capture a defining moment that goes beyond a simply physical representation. Her images are often small intimate moments that are packed with power.  In a world where people are over-saturated with data and images—usually presented at warp speed, many people don't register the world around them, much less nature across the country or the world.  Addressing this lack of connection is where an artist can be effective.  Her paintings evoke and amplify the emotions generated by being surrounded by a gorgeous landscape or watching flowers bursting into bloom.