Leah Medin
Umbrella Art Center Artcubator Residency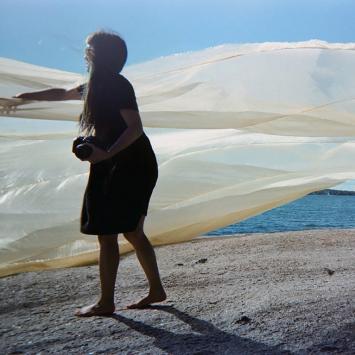 Current Artcubator Resident, August 1 to December 31, 2020
Bio
Leah Medin (b.1991) is a visual artist working in fibers, sculpture, painting, installation, and photography. Medin received a BFA in Fibers from Massachusetts College of Art and Design in 2013. She studied as an exchange student at the Gerrit Rietveld Academie in Amsterdam, Netherlands, in the spring of 2012. In July 2018, Medin participated in a two-week artist workshop at the Nagenda International Academy of Art and Design in Entebbe, Uganda. She has attended artist residencies at Haystack Mountain School of Crafts (Deer Isle, ME), Monson Arts (Monson, ME), and Kunstkollektivet 8B (Unnerud, Denmark). She is the weaving studio supervisor at Gateway Arts, a studio art program that works with adults with developmental disabilities, in Brookline, MA.
Artist Statement
Primarily my work explores movement through sculptural installations in the environment. I am interested in the physical and emotional awareness activated in these moments. Each installation captures a material and its response to wind and light through human collaboration. 
In addition to my performative work, I make work that is tactile and process-oriented; I often weave, knit, print, draw, paint, and dye fabric. Using different materials I focus on pattern, scale, color, form, and the grid. My fascination for the grid comes from my experience with weaving and running a weaving studio at Gateway Arts. The woven grid represents a physical structure, a repetitive form, and a unique way of creating order.
For inspiration I listen to music, explore nature, ride my bike, and try to travel to new places. Working at Gateway Arts full time and attending artist residencies have had a huge impact on my life as an artist. Many different places and communities have informed my art practice and understanding of how art can bring people together.
Residency Goals
During this residency I plan to create sculptural installations and paintings. In addition, I will explore the nature around Concord and visit Walden Pond. I look forward to meeting other artists at the Umbrella Arts Center.