Kirsten Bassion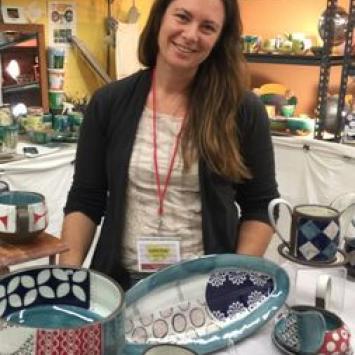 Kirsten Bassion received her MFA in Ceramics from The School of American Crafts at Rochester Institute of Technology in Rochester, NY in 2004. She graduated cum laude with her Bachelors from Skidmore College in Saratoga, NY in 1997 with a major in studio art. Kirsten has been a visiting artist at the Minneapolis College of Art and Design, the College of William and Mary in Williamsburg, VA, Nova Scotia College of Art and Design in Halifax, Canada, and Fundacion Josep Llorens Artigas in Barcelona, Spain.
Kirsten is the owner and founder of The Clay School in Lynn, MA where for the last 17 years she has been making her own work and teaching classes for adults who want to learn the fine art of working in clay. The Clay School offers classes and work space for artist in residence to explore the artistic side of ceramics. Over 17 years it has grown into a major community ceramics center north of Boston with 200 artists and students, 6 highly educated teachers and 4 dedicated studio technicians.
Her work has shown in galleries throughout the country including the Fuller Craft Museum and AKAR Gallery. She has been included in the 2020 Strictly Functional Pottery National and in both Exuberant Surfaces Show and the AMACO 100 Show at NCECA in Minneapolis. She has been a judge for the Marblehead Festival of the Arts, the Marblehead Arts Association, and Rochester Institute of Technology's School for American Crafts NCECA Reunion Show. She has been a guest lecturer for years at Skidmore College's Artist Entrepreneurs program and taught workshops around the country from San Francisco at Clay By The Bay to local high schools.
She resides in Marblehead, MA with her husband and two daughters. You can see more of her work at www.kirstenbassion.com and www.TheClaySchool.com.
Kirsten's work is made of dark brown stoneware and fired to a mid-range (cone 5 = 2150°F) in an electric oxidation kiln. She primarily works on a potter's wheel.
Her process includes using porcelain slip, paper stencils, carving tools, and underglazes. Kirsten then glazes the pieces purposefully leaving large areas of unglazed clay that she then hand-sands after the firing to make it perfectly smooth.
Kirsten is inspired by her love for quilting, both making and collecting. Each area of the pot surface is treated like a different section of a quilt with pattern, color, and texture. These are domestic patterns and colors. They feel familiar, almost warm to hold, and their forms are generous offerings for family gatherings. She hopes the final product is as satisfying to use as it was to make. Sharing her work with others is half the joy of making.