Joe Blair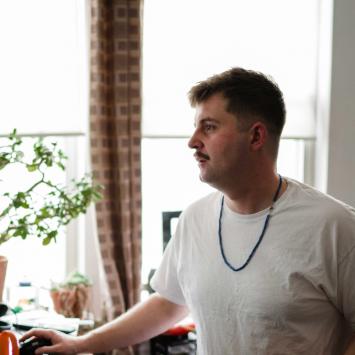 Joe is a professional designer and educator who loves being in the classroom teaching and learning. His experiences working with architectural signage as a graphic designer inform his focus on human-centered-design. He explores how we interface with our world through the built environment as well as through digital interfaces. His personal interests range from woodworking to building computers.
At The Umbrella Joe works with the lasercutting tool as well as the vinyl-plotter and related computer software. He also contributes to visual design for the theater company and galleries.
Currently an adjunct professor at Endicott College in Beverly, MA teaching Intro to Computer Graphics and several Typography classes, Joe has also assisted in the classrooms of MassArt's graphic design and industrial design departments. Additionally he developed and ran a two week non-digital typography class for high-school age students running during a summer program there.
He plays "the infinite game" and considers himself a forever learner one who seeks out new knowledge. Joe strives to strike a balance between knowing and being comfortable not knowing. His technical experience extends beyond graphic design software such as Adobe Photoshop, Illustrator and InDesign; seeking to embody John Maeda's vision of a computational designer Joe is facile with all things digital-media related, and is a proud professional amateur in many languages. Coding HTML and CSS feels natural, as does picking up Processing or C# to get something done. Videos, animation, interactive experiences are all on the table. He selects and uses digital and analog tools nimbly to best tell his clients' stories.