Ilse Plume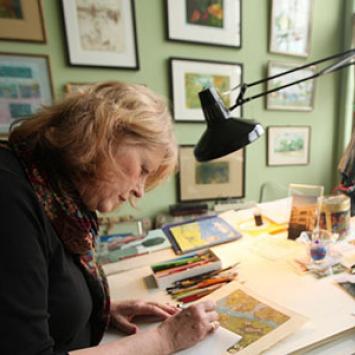 I'm an internationally renowned children's book author and illustrator who has illustrated stories from Italy, Latvia, Russia, and Sweden. I was inspired to illustrate children's books by my daughter, and my love of tales around the world was nurtured by my grandfather.
My books include The Bremen Town Musicians, which received the Caldecott Honor, and The Year Comes Round: Haiku through the Seasons. I was the recipient of the 1985 Ezra Jack Keats Fellowship and have shown my work in exhibitions at the Concord Free Public Library and the DeCordova Museum in Massachusetts, and the Federal Reserve Bank of Boston.
I have an M.F.A. and B.F.A. from Drake University and studied printmaking at the Santa Reparata Studio in Florence, Italy. I've taught at numerous institutions  including the Massachusetts College of Art and Design and Harvard/Radcliffe Seminars as well as the Minneapolis College of Art and Design, Tufts and the School for the Museum of Fine Arts, Boston. I'm currently working on my next book project. To learn more about my classes, please click here.
To learn more about Ilse and connect, visit her website www.ilseplume.com or follow her on Instagram @ilseplume.