Gail Burr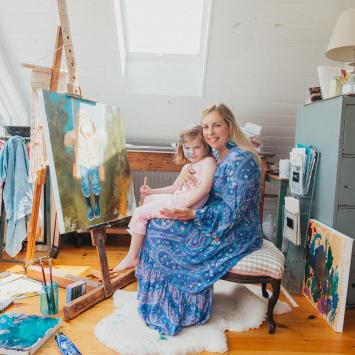 Gail grew up in Bryn Mawr, PA where she attended Episcopal Academy. Her life in the arts began young, with classes in woodworking, jewelry making, painting, ceramics and more. You name it, and Gail has tried it!
She went on to study Art Education and African studies at St. Lawrence University. Through SLU, Gail studied abroad in Zimbabwe where she focused on Shona sculpture. She also completed a summer intensive professional photography program at The Rocky Mountain School of Photography in Missoula MT and later displayed her photographs in a solo show in Boston.
After college, Gail taught art and woodshop to pre-K and K children at her alma mater. She then moved to Boston and taught Kindergarten at The Dexter School. While teaching, Gail completed her MA in education from Lesley University. During the summer months, Gail was the Assistant Camp Director at The Brimmer and May School in Brookline MA. After five years of teaching at Dexter, she moved to work at Brimmer and May full time, becoming the Assistant Head of Lower School and Admissions Assistant, focusing on the youngest children in the school.
After getting married and having two children, Gail decided to explore her love of painting and became a full-time artist.She currently works out of her home in Concord MA, creating water color and acrylic paintings related to her interest in fishing.
Gail is heavily involved in her children's education. She is the Assistant to the new initiatives coordinator at The Milldam Nursery school, a cooperative school in Concord MA. At The Nashoba Brooks School, where her daughter attends, she is 20/21 VP and 21/22 President of the Parents Association, a member of the campaign steering committee, and a PIN representative, learning about projects and initiatives at other private schools in the Greater Boston area.