Ellen McHale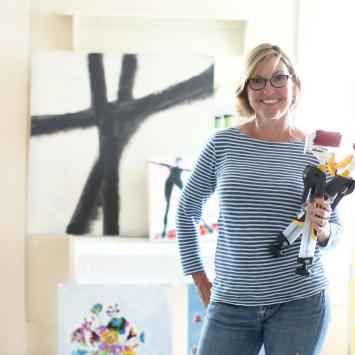 Ellen is the artist/owner of Nelley-Kelley Designs, an online market place for her artwork, product line and a venue to showcase her love of vintage finds and interior styling.  She started her career as an ophthalmic technologist at Cornea Associates and then went on to Ophthalmic Consultants of Boston (OCB).  At OCB she headed up the research team that did the initial clinical trials for FDA approval of what today is commonly know as Lasix surgery and she was included in a published work as a known expert in the field of corneal topography. Ellen went on to become the Clinical Director for OCB, due to her successes in the field.
Ellen and her family have traveled internationally.  Before moving overseas they lived in New Jersey where she volunteered to help teach pre-school art class at her son's elementary school.  While living in London Ellen was a member of the Board of Directors of the Hampstead Women's Club, an international ex-pat club, co-chairing events and offering popular series on art history, tours of galleries and historical sites.  She was also a volunteer librarian at the American School in London.  Moving back to Concord in 2004, Ellen volunteered as a parent librarian at Alcott school, and was fundraising co-chair for two years.  She led the family effort to be a host family for the Metco Program during those years.
Ellen is a self-taught artist, but has pursued continuing education throughout her years, whether in London or locally at the DeCordova in Lincoln.  She was selected to be part of a juried show in 2006 at The DeCordova student gallery, and in 2010 was discovered as a new artist by Daily Grommet, which picked up her product to sell on their site.  Ellen has donated some original artwork to the Concord Community Chest, The Alcott School and The Brooklyn Public Schools as well as The Umbrella's Artrageous Gala.  She co-chaired the Gala in 2015 having already served on the events committee for the Gala in 2014.
As of May 2015, Ellen was published in the popular interiors magazine "Upcycled Style" which featured her work in a 14-page spread!  This fall she was featured artist in "Finish" magazine sponsored by Wagner Paints.